JUXTA Introduces Autonomous Retail Stores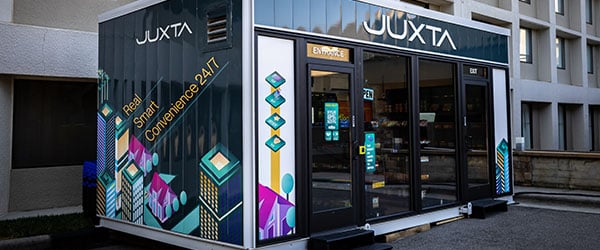 JUXTA, a global technology and micro convenience retail store provider, has announced its fully autonomous and pre-assembled portable c-store model, JUXTA Nomad, to supplement EV charging stations and help traditional fueling stations transition.
"Our mission is to support station operators transitioning from traditional hydrocarbon fuel stations to EV charging points and collaborate with established retail brands to extend their presence beyond fuel pumps by adding value to the charging station experience and driving top-line growth," said Om Shankar, JUXTA co-founder and CEO.
"The JUXTA Nomad offers the most profitable per square foot retail format in the world," explains Shankar. "Each Nomad also provides customers with a comprehensive suite of real-time data, enabling them to optimize their retail strategy and precision-target their customers by stocking only high-demand items to reduce waste and enhance profitability."
If you've followed the growth of the electrical vehicle market, you know that when it comes to charging, it's something that EV owners must do, and it's possible that they will often find themselves having to charge their vehicles in remote areas.
Thankfully, JUXTA plans on eliminating the inconvenience that comes with waiting at a charging station because they recently announced that they will be installing their portable c-stores at EV charging stations worldwide.
Supporting Consumers Making the Transition To Electric Vehicles
Consumers who own electric vehicles are often the most committed to doing their part to save the environment, but they also are faced with the harsh reality that driving an electric vehicle often means that they must spend the time charging, away from normal conveniences.
With the JUXTA Nomad convenience store, EV owners will have the same conveniences of being able to purchase drinks or snacks while they charge. This portable convenience store can be set up in just 12 hours, and it's an autonomous store that doesn't require an employee to be on staff during a typical 8 hour work day.
An Extension Of The Convenience Store Model
With a changing economy, and the challenges traditional convenience stores face of staying open 24-7, the JUXTA Nomad convenience store offers tons of benefits, especially since it can also be placed at fuel only gas stations, car wash sites, and other locations worldwide that would benefit from having a convenience store on site.
Yes, JUXTA makes it possible for business owners to move beyond the traditional brick and mortar convenience store thanks to their unstaffed fully automated store that's designed to offer excellent top line revenue per square foot.
To learn more about the JUXTA Nomad retail store, visit their website at https://www.juxta.ai.