Just Baked Smart Bistro Targets National Expansion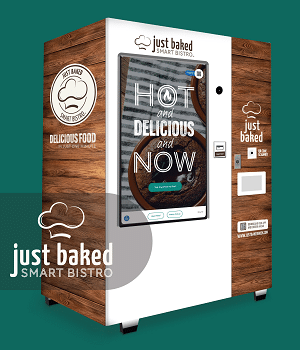 With smart vending machines selling hot, fresh fast food throughout Florida and northward to Atlanta, and an inventory of 1,000 more kiosks set for placement by the end of 2022, Just Baked Bistro is well on its way to nationwide expansion and is seeking operator partners who want to add hot food to their locations.
Led by the management team of CEO Gary Cohen (former CRO of Redbox), Ben Porter (former CEO of GPSI) and CTO Larry Heminger (former CTO of EcoATM) and backed up by technology and management teams in San Diego, CA and Sarasota, FL, the company operates on a business model where a revenue sharing agreement gives operators machines, parts and service at no charge in exchange for placements at the operator's locations. Machines are assembled in Las Vegas, and a second facility is planned in Sarasota to support planned expansion.
Just Baked is targeting operators in markets where multiple machines can support a locally placed Just Baked operated kitchen. The company says placing a kitchen in the market ensures it can promptly provide fresh product for restocking and make sure that any expired product does not reach the consumer. Such efficiencies are enabled through transmission of real time sales and product stocking information both to Just Baked and the operator via a Verizon cellular proprietary software portal. Just Baked chose cellular over wi-fi because it says cellular is more stable.
The Just Baked kiosk can serve a wide range of food products at various price points. Breakfast, lunch, dinner, snack, and dessert menus can be tailored to suit the needs of each location. Executives further say the kiosk's hot, fresh options are on par with other quick and casual establishments with an even faster, safer, and more convenient experience.

Among products currently custom-made for the Just Baked machines are high demand items such as cinnamon rolls, sausage pretzel wraps, bacon egg and gouda sandwiches, lava cake, White Castle sliders and more. If an operator has a favorite heated food he or she feels would sell well in a particular market, the kitchen will make it and test it in the operator's location.
According to company executives, many facility managers and site hosts are looking to phase out personal contact in food service post covid, and hot vending options such as the Just Baked Bistro are becoming more popular. The company claims that bringing new heated food into traditional vending is bridging the gap between vending and food service. The bridge, they say, will help operators close deals for new locations which earlier had been served by in-person food service options or only cold vending.
"At Just Baked our mission is to make people rethink the possibilities of a kiosk; fresh, delicious food conveniently located where people work and travel," said Kevin Haggerty, vp customer success of the company. "By installing a Just Baked kiosk, operators get all the benefits of serving amazing food without any of the headaches." Haggerty added that they offer business resources which can help an operator differentiate themselves from others when bidding for a new location.
Product in the machine is developed and tested by the Just Baked culinary team. While market research obtained from existing sales is used to project what may be placed in a machine, the suggested stock assortment can be modified by the operator.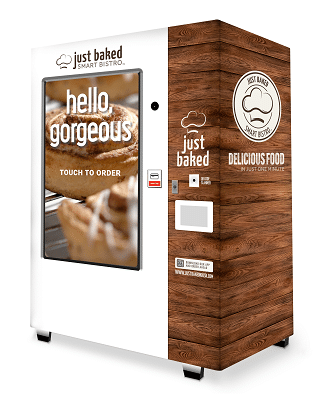 The ADA compliant, NAMA certified machines have a footprint of 48 inches wide by 39 inches deep and are 76 inches tall. They are powered by 30-amp, 220 volt, 3-wire single phase grounded service. Machines need an indoor location.
Machines can vend up to 64 skus per load. There is leeway in the slots so that the products do not need to be perfectly aligned when loading. With many vending machines, if the product is not exactly aligned a machine will not operate when the door is closed. The error delays the route driver as he must re-open and re-set the machine. Error prevention by the Just Baked machine reduces the time the driver needs to be on site.
Consumers can order and reserve product in advance using the Just Baked app on their smart device or make their selection on the 50-inch touch display on the front of the machine. When a product tile on the display is touched, pricing, payment and nutrition information is displayed. Product is heated and delivered in between 45 and 60 seconds after payment through the attached Castles Technology device or through the Just Baked app.
While many vending machines allow only one product purchase per transaction, Just Baked kiosks allow limitless purchases per transaction.
Just Baked has an intelligent inventory management system which allows both the operator's back office, as well as Just Baked, know what is going on in each machine in real time. All product boxes are bar coded and tracked so that slots are refilled on a timely basis and no outdated food is sold. Waste, spoilage and shrinkage are also reduced.
To learn more about Just Baked, visit https://justbakedkiosk.com/, email info@justbakedkiosk.com, call 888- 237-0267, or watch the Fresh Baked video at https://youtu.be/Qs48yil7AeY

The Just Baked machine will be on display in Booth 2108 at the NAMA Show in Chicago in April.