Invenda Group Enhances Automated Retail With Adyen Partnership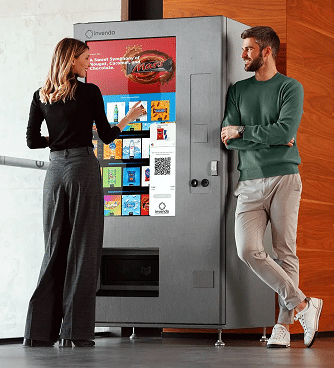 The newly minted partnership bolsters the industry's most advanced payment solution.
Invenda Group AG, the leader in next-generation automated retail, announced a new partnership with Adyen (AMS: ADYEN), the global financial technology platform of choice for leading businesses. The partnership furthers Invenda's 360-approach to automated retail by incorporating a more efficient, streamlined, and cost-effective digital payments process. Adyen's advanced technology will be incorporated to enable Invenda Wallet, a download-free web app that enables mobile shopping for consumers.
The new partnership closely follows Invenda's $19M Series B funding round and will further develop the Internet of Retail (IoR) – a dynamic network of in-person and online financial technology systems. Through the full IoR-connected ecosystem of Invenda Platform solutions, Invenda partners are able to collect unprecedented data into the shopping journey, creating highly customized and engaging retail experiences for consumers while driving sales and insights for brands and operators.
"The automated retail industry has had an if-it's-not-broken-don't-fix-it mentality for too long and Invenda's committed to leading the industry forward," said Mark Crandell, managing director of North America at Invenda. "Layering these additional services into Invenda's platform allows automated retailers to offer payment options that match today's consumers' expectations."
"We couldn't be more thrilled to team up with Invenda and bring our payment technology to the forefront of automated retail," said Niklas Brüning, VP of business development at Adyen. "Together we share a common mission to push the boundaries of what's possible. By combining our expertise in payment solutions with Invenda's innovative approach, we believe we can help drive significant innovation and value for both operators, and their customers."
Invenda will be exhibiting in booth #1453 at the upcoming NAMA show in Atlanta from May 10-12, and will also showcase its partnership with Adyen at the show's "Imagination Way".
To learn more about Invenda Group AG and the company's pioneering IoR technology, or if you are interested in joining the company's growing team, please visit www.invendagroup.com.
About Invenda Group AG
Founded in 2017 by CEO Jon Brezinski, Invenda Group AG powers the Internet of Retail, an ecosystem of software, hardware, advertising, data, payment, and services transforming the automated retail industry. With headquarters in Alpnach, Switzerland, the company has offices and showrooms in London, Berlin, Stockholm, Novi Sad, Hong Kong and a new US showroom to be opened in 2023. Invenda is partnered with Microsoft and Intel, with existing clients including Mars Wrigley, Coca-Cola, Selecta, and Valora.
For more information, please visit: www.invendagroup.com, email invenda@launchsqaud.com.
About Adyen
Adyen (AMS: ADYEN) is the financial technology platform of choice for leading companies. By providing end-to-end payments capabilities, data-driven insights, and financial products in a single global solution, Adyen helps businesses achieve their ambitions faster. With offices around the world, Adyen works with the likes of Facebook, Uber, H&M, eBay, and Microsoft. The cooperation with Invenda as described in this merchant update underlines Adyen's continuous growth with current and new merchants over the years.