Introducing The Just Baked Kiosk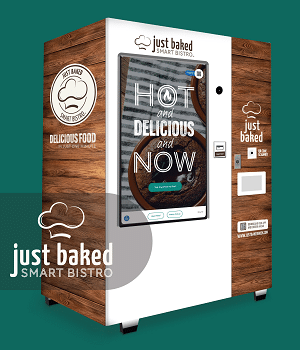 The future of food service technology has arrived, at zero cost to you!
Just Baked uses cutting edge technology to safely deliver incredible tasting food to customers. The kiosk brings food to locations, with optimized inventory and provides new opportunities to service customers any time of the day.
At Just Baked, we're embracing the modern challenges of food service. Labor shortages, food supply issues, permitting requirements, food safety and the list goes on…
By installing a Just Baked Smart Bristo at your place of business, you get all the benefits of serving amazing food to your guests and employees – without any of the headaches!
Remote Management.
Touch Free Ordering Options for your Employees.
Absolutely delicious foods – with menus selected specifically for your locations.
Food On Demand – 45-60 seconds from payment to delivery.
Market-leading food technology.
NAMA listed.
ADA Compliant.
PROVIDE THE BEST MENU
Just Baked can serve a wide-range of food products, at various price ranges. Breakfast, lunch, dinner, snack, and dessert menus can be tailored to perfectly suit the needs of each location. The Just Baked kiosk provides hot, fresh options on par with other quick and casual establishments with an even faster, safer, and more convenient experience.
To learn more about Just Baked, visit our website at https://justbakedkiosk.com/, email info@justbakedkiosk.com, call call 888- 237-0267.
Check out the Just Baked video: https://youtu.be/Qs48yil7AeY