Instant Systems Accessibility Announce Products
Just announce by Instant Retail Systems: When customers give us excellent feedback on the #NEW innovative 'Announce Product Accessibility' feature we get EXCITED – SO we can't keep it quiet any longer literally….. watch this video of ground breaking technology – exclusively available on our #GrabnGO and #micromarkets offering #autonomous #vending for the blind and visually impaired entrepreneurs and customers, offering a whole new frictionless automatic self-checkout food experience!

We would love to help YOU increase your sales by UP TO 40% compared to traditional vending with a HUGE reduction in product shrink by up to 75%! Please get in touch today to deliver an UNBEATABLE customer experience with secure checkout using a credit card or #mobile #payments It Happens NOW! Let's talk about how we can help YOUR business grow and where you will situate your first kiosk and stand out from the competition today!
Also check the Instant Admin platform has been refined for 20 years into a robust and scalable software suite to control and operate a vast network of deployments with ease.
Central DB in the cloud or data center
Control and work with your data via phone, tablet or PC
Customizable app to maximize usability in the field
Modular architecture to easily tailor to your needs
Manage a network of thousands of locations with millions of transactions at a glance.
Kiosk Management:
Real-time monitoring, notification and ticket tracking for the health and inventory status of every location in the network.
Customized dashboards show the most critical operational metrics for each user.
Inventory Management:
Real-time inventory tracking across the entire network.
AI driven inventory management determines when to restock each item at each location.
Marketing:
Promotions engine able to create and manage promotions by customer segment and/or location.
Uniquely identify each customer, market promotions based on their behavior, track their interaction with customer service ticketing system.
Reporting:
Robust financial and operational reporting down to each item at each location.
Export all the data easily to 3rd party systems for analysis.
To learn more about Florida-based Instant Retail Systems, visit their website at https://instantretailsystems.com/, info@instantretailsystems.com, or call 941-888-4356.
About Instant Retail Systems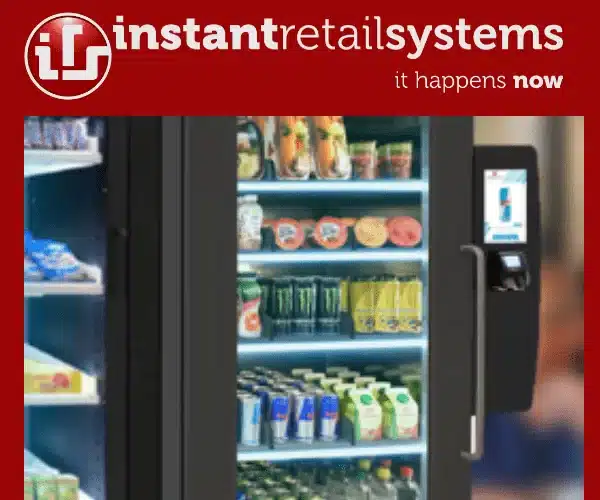 Instant Retail Systems has its roots back in 2002 when Mike DeLazzer and Franz Kuehnrich recognized the next trend in the DVD rental model was about to move from Blockbuster type locations to a kiosk model. Seeing this change on the horizon, they developed the redbox DVD kiosk system which led to the installation and successful operation of 45,000 of the locations in the US. Over the past decade they have taken what they learned from that experience and have developed an extremely robust software and hardware platform that allows for hyper growth without jeopardizing security or stability. Today they see a new opportunity that is many times larger than the DVD movie rental business. The current food vending business model is worth over $30 billion in revenue per year. Just as in the DVD rental business 15 years ago, a paradigm shift is taking place.  The company says it sees an opportunity where a portion of the franchise fast food businesses, which amounts to over $200 billion in sales per year,  is in play due to its unique technology.