Instant Retail Systems, Automated Solutions
Since the early 2000's, Instant Retail Systems has been leading the advancement of automated retail in the United States and they've successfully applied automation to many markets including the DVD rental business.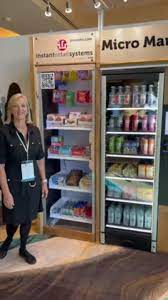 The company pioneered Redbox, the well-known DVD movie rental box business that's been placed at more than 50,000 locations nationwide. Besides helping companies to reduce their labor costs and reach more consumers, Instant Retail Systems has also achieved success in micro markets and automated retail especially thanks to the use of 3D cameras and sensors that can be applied to locations that would never support having an employee.
Now Is the Right Time for Automation
Since the start of the Covid-19 Pandemic, more consumers nationwide have embraced automation as part of everyday life.
Besides helping companies embrace automation, Instant Retail Systems also helps businesses grow in other areas by recommending which products that they can sell that will have a strong impact on their local retail environment while increasing their bottom line.
Scan And Grow or Grab and Go Technology
Yes, Instant Retail Systems has been leading the advancement of AI in retail for years, but they also specialize in technology for micro markets and retail businesses nationwide.
Their 3D cameras, and shelf sensor technology, make it possible for convenience stores and micro markets to stay open longer without having to necessarily have staff to monitor the location.
Once installed, the software can also be used to all motion within the micro market space, track individual shoppers as a group, ensure that selections are combined in baskets and so much more.
Businesses that have successfully implemented their technology have seen growth in every area of their business including:
20% reduction in merchandising costs.
75% reduction in product shrink.
40% increase in average customer order size.
Grow Your Business with Instant Retail Systems
As with anything, market timing is critical, and Instant Retail Systems can help you grow your business with their automation solutions.
To learn more about the solutions that they can offer you, contact them today by visiting their website at https://www.instantrs.com.