Fresh Baked Pizza in 3 Minutes!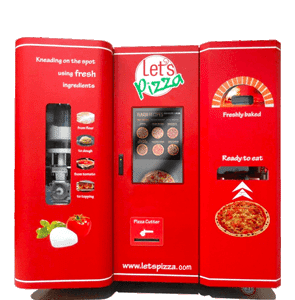 Introducing Let's Pizza™, the fresh baked pizza vending machine!
Let's Pizza™ has cracked the technology that serves you freshly baked pizza, made to order, in under 3 minutes. Our innovative Let's Pizza™ vending machine, the first of its kind, mixes a fresh batch of dough with each order and lets you craft your own pizza by selecting your favorite toppings.
Top quality pizza, freshly baked to order, ready to go in under 3 minutes.
Insert money and select your pizza by pressing the button.
The machine prepares the dough by mixing flour and water with a proprietary recipe.
Once the dough is made it is pressed flat and tomato sauce is automatically spread on its surface.
Your favorite toppings are added onto the pizza based on your selection.
The pizza is moved to the high-temperature oven to bake in under 3 minutes.
The machine places the fresh baked pizza in a cardboard box and serves it to the customer, conveniently ready to-go.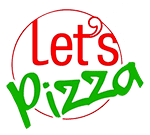 If you're interested in becoming a Let's Pizza™ franchise owner please fill out this form, Email us, or visit https://www.letspizza.com/.