Fluid Truck, Rent Commercial Vehicles on Demand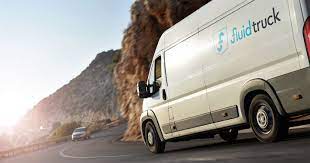 If your business has needed an extra van or truck on occasion, you know the hassle that can come with renting a commercial vehicle. From long lines, to paperwork, it's not always easy to conveniently rent a commercial vehicle for your business.
Fluid Truck makes renting commercial vehicles easy. They offer a mobile app that makes it possible for you to have 24/7 access to trucks and vans regardless of where you're located in the United States.
Simply book your vehicle rental online, through their mobile app and you can conveniently pick it up at a nearby location.
Fleet Management Without the Hassle
Let's face it, if you've owned a fleet of trucks in the past, you know that fleet management can come with overhead costs and hassle.
With Fluid Truck, you always have access to vehicles for any project regardless of if you need a box truck, cargo van or electric vehicle, you can have peace of mind that the transportation solution you need will be available to you.
What's most important about Fluid Truck is that you can easily rent cargo vans on your schedule, even holidays, because the app will connect you with the vehicle that you need anytime during the year.
The Right Vehicle for Your Budget
Budget is almost always an issue for some business, but the good news is that Fluid Truck makes convenient vehicle access budget friendly because when you use the app, you can have access to the truck or cargo van that you need, even if it's just for one hour.
From instant booking, affordable rates and fast pickup to friendly customer support, there's a lot of reasons why you should try Fluid Truck.
To download their app, visit their website at https://www.fluidtruck.com or you can download it from the app store on your phone.