Fingernails2Go Nail Art Vending Kiosks In USA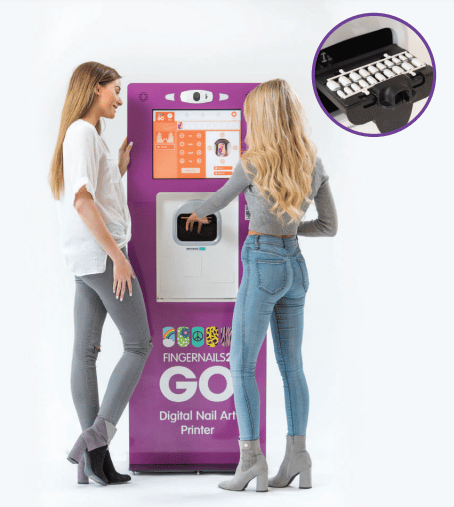 Fingernails2Go announced the arrival of their much anticipated fully automated Nail Art Kiosk, and an exclusive partnership with Digital Media Vending International to bring this product to the North American markets. Together they are delivering a truly unique and personalized nail art experience to malls and shopping centers.
Fingernails2Go has worked closely over the last several years with HP's Specialty Printing Solutions division to produce high quality, safe and reliable nail art printers, utilizing cosmetically compliant inks for the commercial sector. Their fully automated Kiosk has been specifically designed for shopping centers, malls and other high traffic areas drawing crowds of fashion conscious young people for a fun, interactive experience.
"Today's announcement is a great example of creativity and delivering on customer requirements. HP Specialty Printing Systems (SPS) is excited about … Fingernails2Go's portfolio expansion. It demonstrates new uses of print and how HP continues to reinvent Thermal Inkjet Technology," said Annette Friskopp, VP and General Manager of the HP SPS Division.
The nail products market is now one of the fastest growing areas in the cosmetic industry, with Statista forecasting a market growth rate of 4.8% annually from 2022 through 2026. With over 23 billion views for #nailart on Tiktok it is clear to see that this is a lucrative opportunity.
"Our fully automated Kiosk is the natural next evolution of Fingernails2Go's nail art technology. We've been inundated with enquiries over the last several years asking to offer our nail art printing experience in an unattended setting. We are delighted to now be partnering with Digital Media Vending International for manufacturing, distribution and sales in the North American markets." says Bonnie Flanagan (SVP) of Fingernails2Go.com.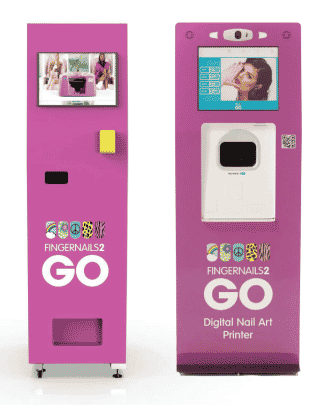 "We are thrilled to be a part of Fingernails2Go's journey. With a wealth of experience in the industry over many years, it's clear to us that the potential of this truly innovative and high profit margin Nail Art Kiosk solution is unlimited," says Joe Seebach, Vice President, Strategic Business at Digital Media Vending International, "With the incredible opportunity that includes Digital Media Vending securing the site, delivering and installing the Kiosk, we see the Fingernails2Go Nail Art Kiosks having a huge impact on the industry going forward."
Fingernails2Go launched this fully automated Nail Art Kiosk at the ICSC 2022 Show, Las Vegas Convention Center in May. With substantial pre-orders already placed, they expect to see their Nail Art Kiosk's appearing in shopping centers and malls across the country.
For more details, please contact Michael O'Hara at michael@fingernails2go.com or on +44 (0) 2895 818847, website http://www.fingernails2go.com.
For USA and Canada inquiries call 800-490-1108, or email fingernails2go@digitalmediavending.com, website http://www.digitamediavending.com.
---