EVA's Version 2.1 of its Electronic Payment Specification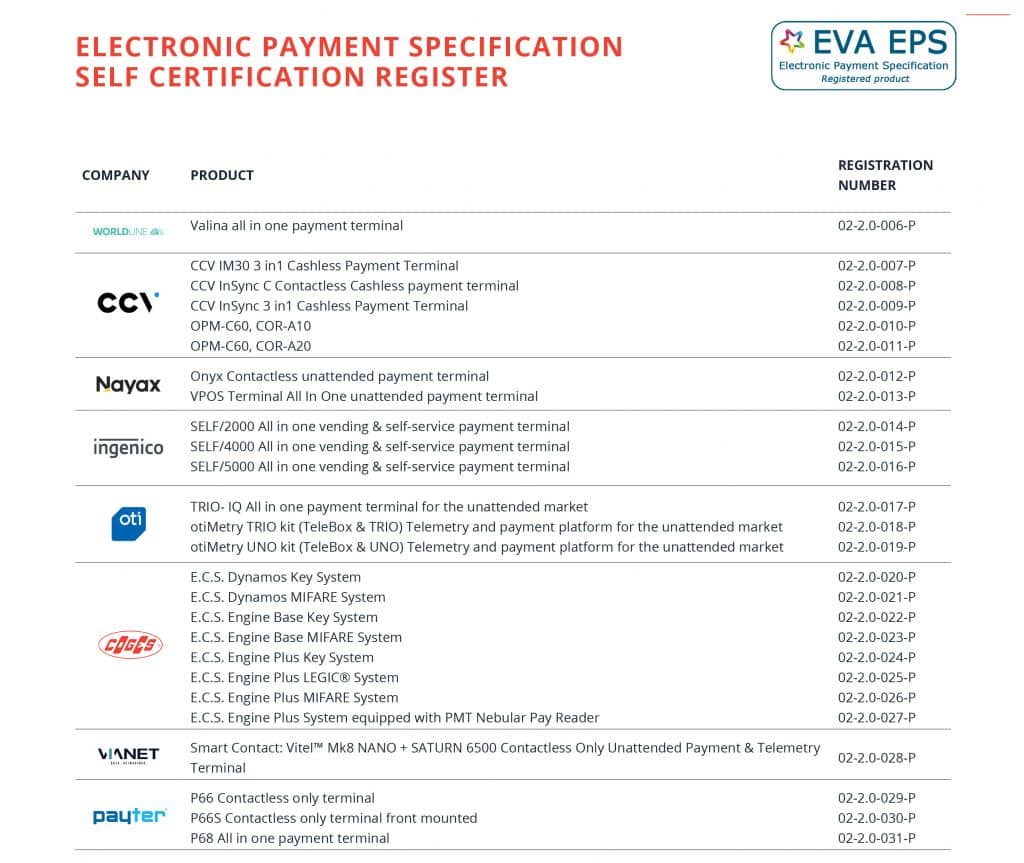 The EVA EPS defines a minimum set of requirements to be followed by vending machines and electronic payment systems to ensure mutual compatibility. Both hardware and software/communication specifications were covered in version 2, released initially in 2020 as a comprehensive update to previous interactions.
The EVA EPS also includes a purchase process which is user-friendly and consistent with that experienced by consumers using other payment methods, and terminal manufacturers can also apply for an EPS compliance code for their payment terminals in order to demonstrate they follow the standard. The EVA is pleased to announce that version 2.1 of the EPS has been released which updates and clarifies this product compliance and registration process as well as the rules for making an application.
As a reminder, the EPS consists of two distinct volumes, with one focusing on the mechanical requirements for fitting terminals to vending machines and the other volume on vending-specific communication protocols. The split is designed to allow similar industries to use, adopt and implement the mechanical dimensions, while yet giving the freedom to choose and determine which protocol(s) are best used in that particular industry.
The update to version 2.1 was made over the last year thanks to the work, input and experiences from members of the EVA Electronic Payment Committee, made up primarily of payment systems providers and machine manufacturers. The application process for a registered payment terminal can now only be made by an EVA member or a member company of a national vending association. An EPS registered product means that the company declares that it complies with the rules and guidelines contained within the EPS to ensure mutual payment system and vending machine compatibility. The regularly updated registered product list is publicly available and can be viewed on the EVA website. Significantly, this list can provide vending operators with confidence in knowing that by choosing an EPS listed payment solution that it will be compatible with the EPS rules and therefore with a vending machine.
The EPS version 2.1 can be downloaded for free from the EVA website (after registration), and supersedes version 2: https://www.vending-europe.eu/activities/payment/