DMVI's Innovative Salad Vending Machine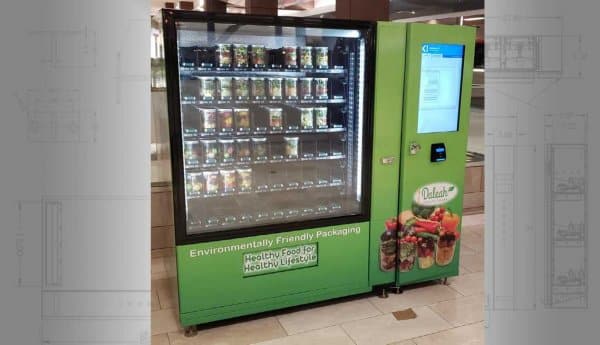 An Innovative Way To Offer Freshly Made Salads To Your Customers.
Salads are always a desirable product that consumers are looking for because people want to eat healthy, but it's often difficult for operators to carry salads because they have to be kept fresh.
Thanks to the DMVI's Salad Vending Machine, it's never been easier for operators to offer freshly made salads to their customers. 
Their salad vending machines give operators the ability to capitalize on the growing demand for salad in the United States as more Americans want to eat healthy and incorporate a salad into their daily diets.
Offer Your Customers More Than Just Fast Food
Fast food is what having a vending or micro-market is all about, because many people typically visit micro markets with just minutes to spare.
With a salad vending machine, you can offer your customers not just fast food, you can also offer them fresh food as well.
These refrigerated vending machines are designed to keep salads stored in jars, tubs, or other containers and chilled, so that they stay fresh and are ready to be consumed when your customer buys them.
Made by DMVI Media Vending International, their salad vending machine is available at just the right time as more Americans want to eat salads than ever before, and it's estimated that more than 250 million Americans will want prepared salads by 2024.
Healthy Food Now Available On The Go
Consumers these days know that very few restaurants offer anything healthy that can also be enjoyed even while they are on the go.  Fresh and healthy vending machine options are in demand, and Sebastopol CA-based DMVI can help you meet the healthy food demands of your customers. 
These salad vending machines can be placed anywhere including business parks, apartment buildings, transit stations, malls, and more.
To learn more about the DMVI Salad Vending machine, visit their website at https://www.digitalmediavending.com, call (800) 490-1108, email contact@digitalmediavending.com.