Daily Crunch Mixed Nut Mini Bags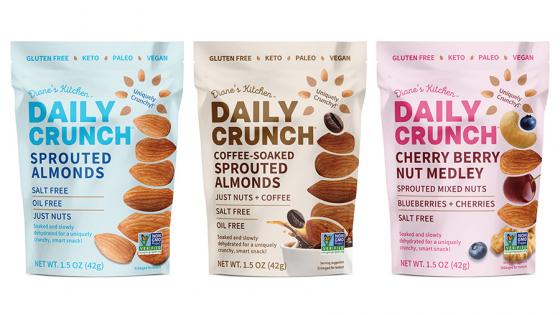 Introducing Daily Crunch mixed nut mini bags for vending. These 1.5-ounce mini bags are antioxidant-rich, uniquely crunchy, and they are one of the best new snacks that consumers are turning to when they want an ideal combination of sweet/salty without jeopardizing their diets.
Check out these flavors: Sprouted Almonds, Coffee-Soaked Sprouted Almond and Cherry Berry Nut Medley.
Sweet And Salty
Thankfully, Daily Crunch snacks offers a trail mix that lives up to being a trail mix that lives up to the expectation of being a delicious trail mix that's also better for you.
Daily Crunch trail mix features crunchy almonds, cashews, and walnuts with a healthy combination of blueberries and cherries.
Best of all, this trail mix is keto-friendly, paleo, gluten-free, and the nuts are soaked/sprouted for better digestion. Daily Crunchy Snacks, offers sprouted and dehydrated nuts that are easy to enjoy and digest. 
To learn more about this delicious Daily Crunch trail mix, visit their website at https://www.dailycrunchsnacks.com.