Compass Food Tracking Program Reduces Food Waste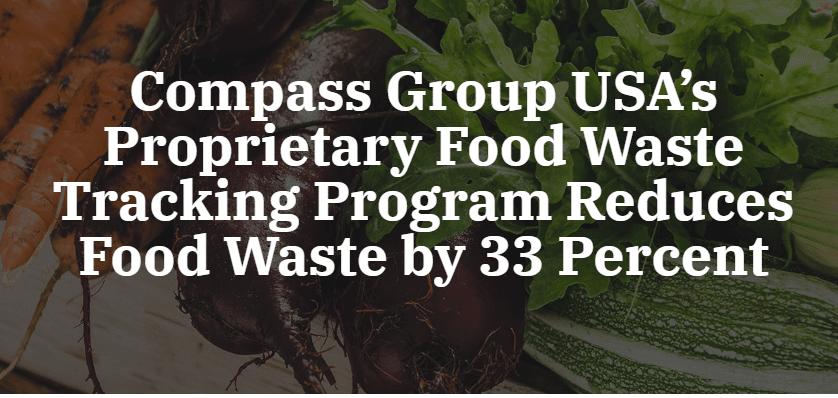 Concerned about food waste?  In 2022 more companies than ever before are concerned about food waste, especially in cafeterias nationwide where it's not uncommon for hundreds of pounds of food to be wasted each month. 
Thankfully, Compass Group USA, the world's largest food service provider, recently launched Waste Not 2.0, a proprietary, tablet-based, waste tracking program that's making a meaningful difference in reducing food waste at their locations nationwide. 
Taking Food Waste Reduction to A New Level
With an initial goal of cutting their food waste in half by 2030, Compass Group is on track to meet their goal, and they are not alone in the fight, because other companies worldwide are taking up the fight to cut food waste at their restaurants and cafes worldwide.
"Our team remains committed to reducing food waste and we know the next iteration of Waste Not 2.0 will enable our chefs and culinarians to take food waste strategies to the next level and has the potential to reduce food waste by up to 50 percent."
– Amy Keister, Senior Vice President of Sustainability & Culinary, Compass Group USA
A Program Built by Chefs
What's unique about Waste Not 2.0 is that this program was built by chefs, and it also helps kitchen team members identify waste-reduction opportunities that are more than typical kitchen waste like peel waste, bones, trim, or core waste from meats.
This user-friendly digital platform has also given managers the tools that they need to identify problems and create long-lasting solutions that will lead to eliminating even more waste in Compass Group kitchens nationwide.
Besides cutting food waste, the program's dashboard also shows users their carbon impact as well so that program participants know that they aren't just eliminating waste, they are making an impact on the environment at the same time.
Learn More
To learn more about Waste Not 2.0, the new Compass Group program that's eliminating food waste at their cafeterias nationwide, visit their website at https://www.compass-usa.com.