Cheesewich™ Original Salami & Colby Jack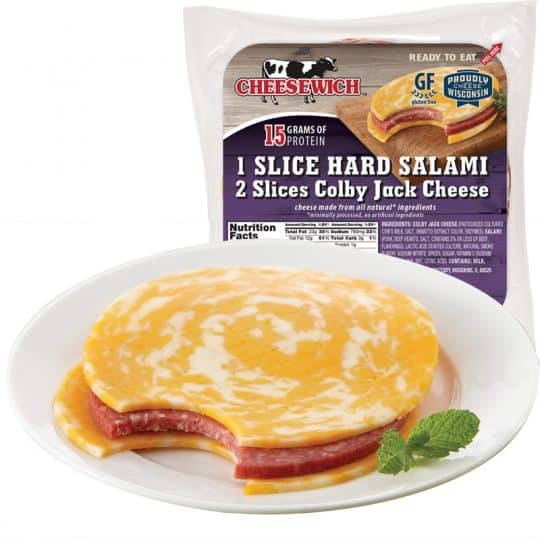 Thanks to the Cheesewich™ Original Salami & Colby Jack, anyone can have a delicious, hearty snack that they can enjoy anytime. Ideal for a Grab and Go meal or snack.
This Cheesewich is ready to eat, vacuum packed. 2.5 oz of deliciousness! Contains 15g of Protein, 1% Carbs, 1g Sugar, Gluten-Free. Available in 16 and 24 count caddies.
Besides being an ideal snack for people who are looking for grab-and-go meals, this snack is also is gluten-free, has 15 grams of protein per serving, and the cheese comes from cows that were not raised with rbST hormones.
Cheesewich™ has a long history of making delicious snacks that are made from healthy ingredients. Since the company started, Cheesewich™ has continued to maintain a standard of excellence when it comes to creating gluten-free, keto-friendly, and high protein foods.
Once it's made, their Original Salami & Colby Jack Grab And Go pack is vacuum-sealed to lock in freshness; this also ensures that anyone who chooses this snack can have confidence that they are going to consume meat and cheese that has a deli quality taste.
With this tasty Cheesewich™ snack, consumers have something that's not going to leave them with a sugar spike after they consume it, and they can have peace of mind that they are enjoying a snack that's made from all-natural ingredients.
Learn more about Cheesewich™ products visit website at https://cheesewich.net. or call 708-458-3100 or email info@cheesewich.net.