Caveman's Maple Pork Meat Bites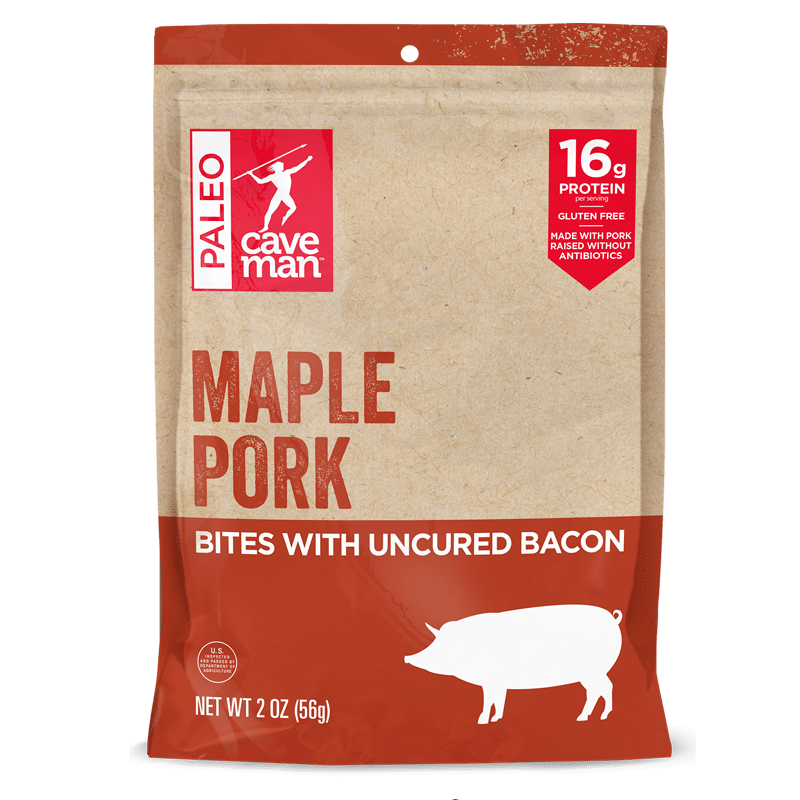 A Delicious Gluten-Free, High Protein Snack!
Caveman's Maple Pork Meat Bites offer consumers a high-protein snack that's also gluten-free and Paleo-friendly as well. 
Made from uncured bacon, these snacks offer 16 grams of protein and just 7 grams of carbs per serving, making this snack a win-win for the health-conscious consumer who wants to eat a high-protein snack that won't leave them wondering how it will affect their diets or bodies later on.
Certified Paleo Meat Bites
Caveman maple pork meat bites are ideal for Paleo diets while also being soy-free, low sugar, and what's best of all is that they don't contain Nitrates or MSG.
12 Resealable Pouches of Certified Paleo Meat Bites.
Gluten-Free and Soy-Free.
No Added Hormones, Nitrates, or MSG.
16g of Protein, 7g of Carbs, and 5g of Sugar.
Made from Crate-Free, Antibiotic-Free Pigs.
Available in 2. ounce, single serve package.
Bring Home The Bacon
Deliciously tender, these meat snacks have a yummy bacon flavor, while also being sweet and savory.
This paleo-friendly snack is also ideal because it will provide every consumer who enjoys them with the protein that their bodies need for the day without leaving them with an upset stomach later on, due to the ingredients.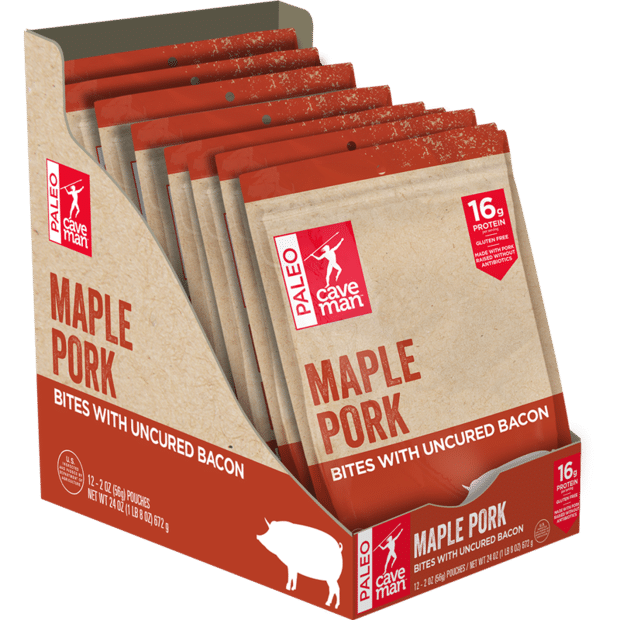 The Importance Of Protein Snacks
Protein snacks are more important than ever before in today's world, especially since it's estimated that at least 1 billion people worldwide suffer from protein deficiency, mostly due to our busy lifestyles.
Thanks to protein snacks like maple pork meat bites, consumers can enjoy protein snacks regardless of whether they are at work, on the way to school, driving home, or heading to the gym.
To learn more about Caveman maple pork meat bites, visit their website at https://www.cavemanfoods.com, or call 925-979-9515.