Bake Xpress Custom Bakes Meals and Pastries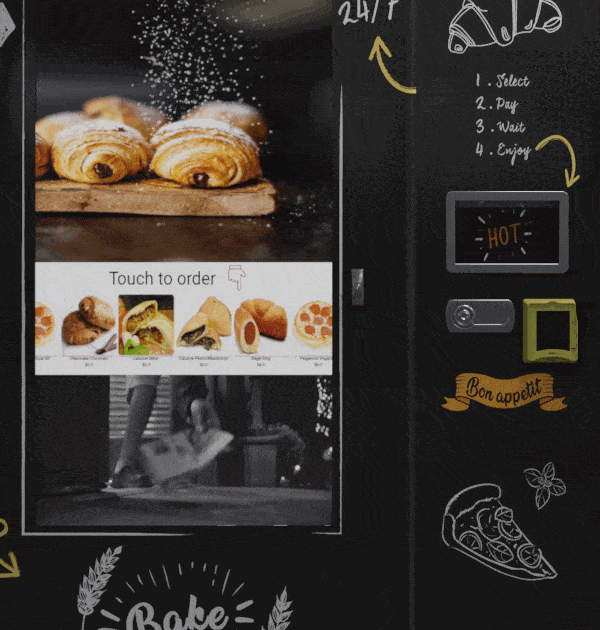 LBX Food Robotics is revolutionizing the food service industry with an innovative combination of robotic, AI, sensor, wireless, and heating technologies. LBX's flagship product, the Bake Xpress micro-bakery, is a ground-breaking hot food vending machine that custom bakes a full range of artisan foods on demand in its smart combination oven.
Bake Xpress offers a customizable menu that can include pastries like croissants, muffins, and cookies; hearty meals like pasta, pizza, and gourmet sandwiches; and refrigerated foods like salads. LBX launched the first Bake Xpress microbakery as Le Bread Xpress in 2018 and has installed machines in universities, hotels, retail centers, factories and office parks world-wide.
WIRELESS
WHITE LABEL
EASY REMOTE CONTROL
SIMPLE SETUP
COMPACT DESIGN
PLUG AND PLAY
You'll be able to monitor Bake Xpress remotely using our cloud-based software, which keeps you up to date on inventory and machine operation.

You also can generate sales reports to illustrate trends and patterns that will help you maximize your sales. If an item expires, Bake Xpress will remove it from the menu, and let you know so you can replace it the next time you load the machine. It's that easy.
You can Buy, Lease or Finance these machines.
For more information, please visit www.lebreadxpress.com, sales@lebreadxpress.com, or call 650-996-4003.