Announcing New VeeFriends Vending Machines
Scott Jochim aka "Mr. Sqwishy" and biz guru Gary Vaynerchuk's VeeFriends unveiled at VeeCon 2023 in Indianapolis a business opportunity for small to medium-sized business owners. The two entities recently revealed a new business venture called VeeFriends Vending, under which Jochim's Brand Vending Products LLC business will exclusively manufacture custom vending machines & custom toys.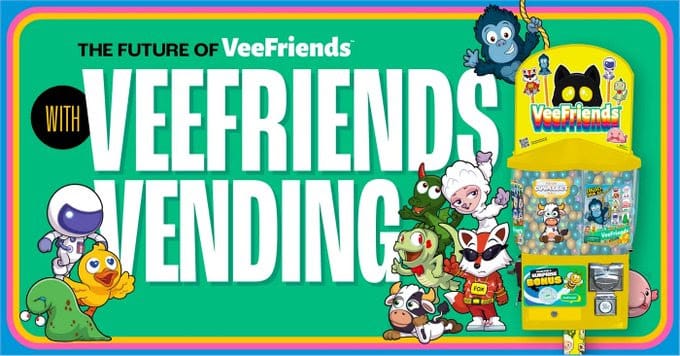 The highly collectible toys of custom VeeFriend characters will be rolled out in limited edition seasons over the next few years. The vending machines will ship loaded with toys and will be a profit center for businesses with high traffic locations immediately out of the box.
Vaynerchuk has introduced products for sale to the public in the past, but this is his first venture offering for business owners and giving these establishments a chance to earn money alongside VeeFriends.
Packages for all business sizes and their incentives range from:
Entrepreneur- 1 machine, 1500 toy capsules
Operator – 3 machines, 6,000 toy capsules (1,500 free toys)
Corporate –10 machines, 21,000 toy capsules (6,000 free toys)
Enterprise Package—50 machines, 111,000 toy capsules (20 Minute Q&A with GaryVee)
Partnership Package—350 machines, 555,000 toy capsules (1 hour keynote & 30 Minute Meet & Greet with GaryVee)
Jochim, who spoke on a panel at VeeCon, is thrilled to partner with such an innovative company as VeeFriends. "My business has sold a quarter of a billion toys in vending machines, but I expect that to be a drop in the bucket compared to what this partnership will do. I couldn't be more optimistic about this and am so gratified that Gary has such a strong vision for this."
Learn more about the venture and opportunity at https://vending.veefriends.com/, Call 800-967-3048, or email.
#bulkvendingmachines #capsulevendingmachines