AI Add-On Brings Down Cost of Smart Coolers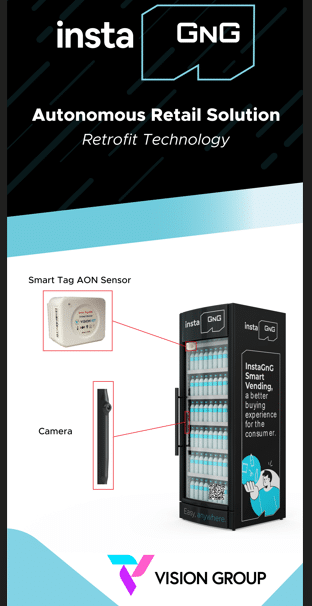 Aftermarket add-ons, enabling frictionless retailing and AI gathering on vending coolers, is now available through Vision Group and its brand InstaGnG. The technology reimagines existing coolers into smart vending machines with computer vision, analytics and diagnostic features without having to purchase a new unit.
Introduced at the NAMA Show in Atlanta, the retrofit technology is already available on coolers from Vision Group's partners Coca-Cola and Imberra. The technology has been available in Europe for many years; the NAMA show marked the first North American rollout for vending operators.
The add-ons include in-cooler cameras to measure the product and where it is stored in the cooler and when product is retrieved from the cooler as well as data transmission devices. In turn product information including nutrition and pricing can be relayed to the consumer via an app. For the operator's business, data is sent to the system in real time, where it can be crunched with data from other business sources to help the operator make business decisions in terms of machine servicing, product selection and suggesting picking options.
Ricardo Silva, SVP, said the pilot of the technology showed an operator's capital expenditures could be reduced by 50% and operating expense reduced by 30% while increasing average items sold per transaction from 1.1 to 1.8 units.
"We believe in customer-centric configurations based on individual needs and our solutions are carefully customized," Silva said. "We offer solutions that adapt to (an operator's) business model through cloud-based software delivered as a service. By retrofitting existing assets, our solutions save significant budget vs. securing a traditional vending machine.  We ultimately make existing assets more productive," he added.
Through an app, the InstaGnG technology enables a consumer to scan a QR code, access information about product in the cooler, and then pay for it while only needing to open the cooler door and retrieve the product. Further, the add-on system gives coolers the autonomy to track stock, monitor machine or cooler conditions, and automatically analyze sales data to provide both independent self-management and detailed consumer insights.
Using Vision's cutting-edge Internet of Things, computer vision and AI capabilities, the company enables unattended/self-service flexible product purchasing and replenishing. This allows companies to easily transform coolers, freezers, cabinets and kiosks into an interactive, automated vending and storage solution.
Vision Group says it is in the business of predicting the future and advising operators the "when (likelihood of out of stock), what (bestseller products), why (change or maintain), and whom (best channel to refill the machines).
"It's one thing to execute a sales transaction, it's another to leverage this data, in-real time, to support the correct assortment and schedule cooler service to maximize sales," said Jason DeRienzo, Vision's chief revenue officer. "In addition to software as a service, we are seeing incredible interest in data as a service.  Our field executions provide incredible big data," he added.
"The future is today as it relates to how people can buy things.  The vending industry will be at the forefront in transforming commerce.  Shoppers want what they want, now.  If Amazon can't deliver their piece of cake right now, the vending machine is the next best alternative.    AI is accelerating rapidly, helping us make relatively mundane decisions faster.  I care about revenue, the more vending machines with our technology the more revenue we can earn from manufactures that are selling more," DeRienzo continued.
To learn more about InstaGnG as an AI add-on to existing vending coolers, go to https://visiongroupretail.com/, or https://instagng.com, email mail@instagng.com.