Adapt Your Operation to Serve the Hybrid Workplace, by Cantaloupe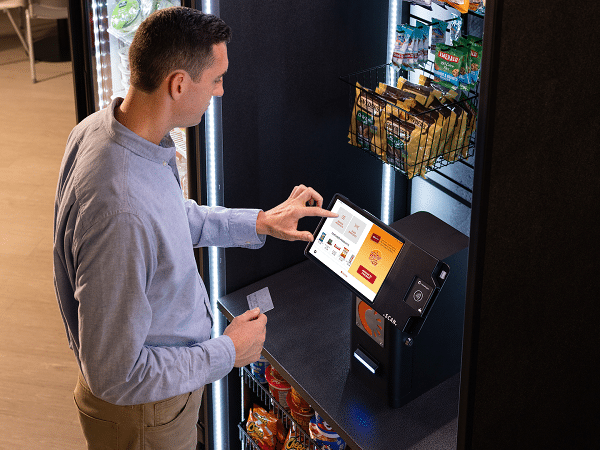 For operators who service office locations, the past few years have felt like a yo-yo.
First, the pandemic drove employees out of the office and into a remote work-heavy reality. Now, we're seeing things swing the other way. Employers are trying to incentivize — and in some cases force — workers back into the office. But it's no longer on the dependable Monday through Friday, 9am to 5pm schedule. Instead, we're witnessing the rise of the hybrid workplace, with employees only spending two or three days in the office.
Less days in the office means less regular traffic to a break room vending machine or micro market. It means less need for office coffee (OCS) and pantry services. So how do operators adapt?
Many operators are reevaluating their tried-and-true, pre-pandemic strategies. Learn what changes they're making to reflect the changing needs of their clients — and feel free to adopt some of their tactics for your own operation.
Consider offering more hot and fresh food programs
"Traditional dining models that we employed pre-pandemic don't work in a lot of instances anymore. So we're working with our customers to replace that traditional dining experience with a micro market that's available to them 24/7. Then it's figuring out how to bring in a hot food component for them on certain days, when you can collect pre-orders." —Tim McAra, Continental Services
As the hybrid workplace continues to evolve, vending operators need to reevaluate their product mix. Offer more fresh and healthy options or switch up the way you offer dining services.
The benefit of micro market installations in office break rooms is the ability to offer more — more snack items, more beverage selections, more cold and frozen foods. Combining on-the-go options with rotating dining programs enhances the in-office experience for employees, driving more regular foot traffic within your office locations.
Introduce new product types beyond food & beverage
"You want to keep your customer base excited about what you're bringing in. Fresh foods are very important, but new lines of products keep them coming back. We've expanded those immensely. We used to carry Tylenol and Advil, but now we carry 50 different types of essentials like toys and gifts. And we're seeing significantly higher margin on those products." —Justin Packrone, James Vending
The beauty of a micro market is that you aren't limited to food & beverage. By offering health and wellness items, office supplies, and other convenience items, operators can meet customer needs outside of meal times and drive more revenue with higher ticket items.
Take a closer look at "blue collar" locations
"The bulk of our market customers are industry. And what we're seeing now is the companies want their employees to stay on campus all day, especially with only 30 minute lunches. Providing fresh and frozen food in a market is fast and efficient. We're showing our clients that we're keeping employees on campus. They don't have to worry about their staff leaving and possibly not coming back." —Kyle Murphy, Buffalo Rock
As offices transition to a hybrid working model, operators in search of that dependable, round-the-clock customer base need to look at industrial locations. Typically, these have been ideal spots to place a bank of vending machines, but micro market installations offer an opportunity for forward-thinking operators. Micro markets keep employees on-location during meals and breaks, and employers can feel good about offering fresher, healthier options for their staff. It's a win-win.
Maintain high quality customer service
Keeping a laser focus on customer service will help operators remain successful in the hybrid workplace. Whether your business is primarily vending, markets, OCS, or pantry services — or a mix — effective communication builds strong client relationships. Understand what's happening within your clients' workplaces and offer service options that meet their changing needs concerning product selection, pricing, and inventory availability.
By focusing on customer service, operators can more easily adapt to a post-pandemic hybrid workplace. Reevaluating your product mix and looking beyond your office locations is just the start to remaining competitive and future-proofing your operation. In the end, it's all about making sure you're offering services and products that your clients need.
source: Sonya Lehner