365 Retail Markets Introduces the MM6 Kiosk
365 Retail Markets, the global leader in unattended retail technology, today announced the launch of its latest kiosk, the MM6 for Markets. Thoughtful considerations in its design and technology offer operators more real estate to drive revenue, as well as solutions to address shrinkage and market uptime.
A countertop kiosk with a 22" touchscreen and diverse payment options, the MM6 for Markets is ideal for engaging consumers in high-touch, high-traffic micro market locations. This large format point-of-sale hardware packages the intuitive and industry-leading V5 software from 365 Retail Markets with impressive visual design.
Built for an Operator's busiest and most profitable locations, the MM6 hardware ensures more uptime with easy serviceability via its unique front-open chassis and contains a built-in battery backup to prevent service disruptions.
The MM6 for Markets will stand out in any size market, as one of the largest displays in the industry. Packaged in a sleek aesthetic, an intuitive user interface (UI) and optimized self-checkout peripherals guide consumers through a quick transaction, improving throughput. Complete with tap, cashless, cash funding, and 365 Global Market Account payment options ensure no sale is missed.
A large vibrant display also provides generous real estate to influence product sales using custom promotions. Food service operators can turn unused screen space into a revenue generating opportunity. Programmatic advertising services, like Advana from 365, connect big brands with select market kiosks where they want to target their offers.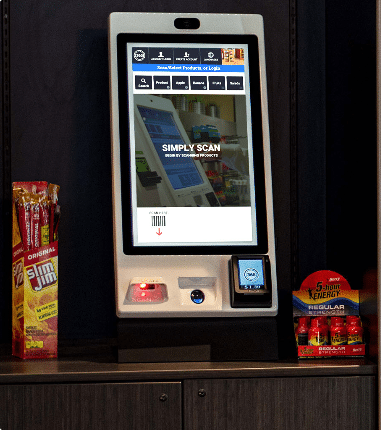 With shrink rates a concern in large markets, the MM6 helps tighten loss prevention. An ultra-wide camera lens captures images within a 185-degree field of view for more detailed back-office reporting. Internal speakers also ensure consumers hear voice commands to return canceled items.
"As the retail world continues to transition to self-service, our product design adapts to consumer and operator expectations, the MM6 is the latest example of that adaptation," said Joe Hessling, 365 Retail Markets Chief Executive Officer. "The MM6 is a direct result of 365's product team responding to customer feedback on consumer experience, product maintenance and market security."
Initially launched as part of 365's dining solution suite, the MM6 was met with great industry reception as winner of an Automatic Merchandiser 2023 Readers' Choice New Product of the Year award. Previewed at last month's 2023 NAMA show, the MM6 for Markets also earned an overflow of industry support.
The MM6 for Markets is immediately available for purchase in the US and is slated for launch in Canada later this summer. To learn more, contact a 365 Retail Markets Account Services representative or visit 365retailmarkets.com/mm6-micro-markets/, call 888-365-6282, email support@365smartshop.com