GIMME Tech, Your Superpowers In The Warehouse!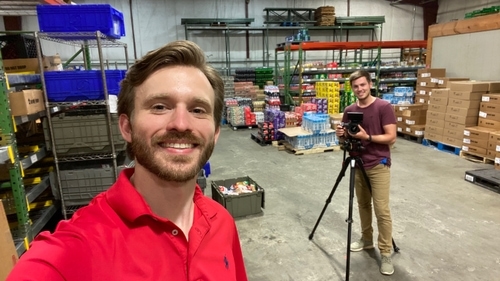 Grow your vending operation with the product you have.
Gimme's VMS predicts if you are likely to run out of a product before the next delivery with Warehouse Rationing. Rationing intelligently redistributes inventory to reduce the probability of stockouts in your markets and machines. Rationing is recalculated daily and automatically adjusts based on actual sales instead of forecasted sales. Users may also temporarily replace a product. This is automatically reverted once the warehouse either has enough of the product or the rationing is deactivated for a product.
Order from your vendors with confidence.
Gimme's VMS takes the guesswork from creating purchase orders and suggests how much product you should order from your vendors. Suggested Order Quantity uses AutoPar, your real-time on-hand inventory, and the estimated delivery date of your next order to calculate the number of each product to order. This data-driven suggestion doesn't require running reports first, saving your purchasing manager a ton of time. Order the right amount of product from your vendors to reduce the chance of product shortage and stockouts.
Set and forget your warehouse par values.
Define the number of days worth of inventory you want on hand. AutoPar automatically determines the quantity of each product, which changes with your average pick volume over the last 30 days. When markets and machine sales increase, like water in the summertime, AutoPar automatically increases, too — you don't need to remember to make manual adjustments. Our recommended best practice is to set your AutoPar days based on how often that product is delivered plus a margin based on the Order Fill Rate. You can always use your own logic for determining the right operating stock level for each product.
Check out more GIMME advantages on https://www.gimmevending.com/, email hello@gimmevending.com, or call (888) 988-4161.
About GIMME
Gimme is based out of Atlanta Georgia. The company builds advanced hardware and software to help food service and grocery delivery operators automate merchandising. The company's technology provides management for operators of grocery, convenience, vending machines, micro markets, and office coffee, helping them deliver amazing customer experiences.

Gimme's use of artificial intelligence, computer vision, and machine learning technologies impacts not only its own products and services, but also how the unattended retail industry operates. The technology provides machine status data to help operators focus on cash accountability and inventory tracking to reduce stockouts, accelerate warehousing and restocking, and streamline product planning. The company's hardware product, the Gimme Key, is now the #1 wireless DEX adapter for direct store delivery, using Bluetooth Low Energy technology and replacing previous outdated legacy handhelds