Wall mount vending machines for sale, wall mounted product vending machine equipment suppliers
Also see: Vending Machine Manufacturers, Vending Personal Products, Washroom Vending,
Wall Mount Product Vending Machines
Wall Mount Water Vending Machines for sale! Shipped Anywhere in The World! All Currencies, UNBEATABLE PRICES! Always the best prices for Coin operated / Bill Operated WATER VENDING MACHINES SINCE 1979!
KT Technology
develops and design touch screen kiosk terminals (Wall Mount Kiosks) for businesses seeking self-service solutions as part of their marketing strategy. Experienced technicians and designers provide complete turnkey solutions from concept to delivery on time and budget.
Automatic Selling Machine "BrandParfumSplash"- gives people an opportunity for a small fee to put some scent of popular world brands. The machine is designed for accommodation in both the male and female public toilets – in coffee shops, restaurants, supermarkets, education establishments, nightclubs, gyms etc. Due to small size of the machine and reasonable internal structure, it is easy to install and handle.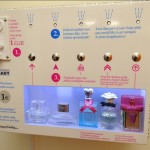 Personal Products Ltd was established in its current form in 2006 by industry professionals with over 30 years experience. Our roots go back to 1989 when its current management team started in the washroom service sector.
PROTOCOL is a leading international supplier of over-the-counter medications and other personal products. Wall mounted vending dispensers.
Phone: 800-227-5336
Fax: 651-256-2571
Slimline Designs – Wall mount, Floor Standing, and counter top vending and dispensing machines! FACTORY DIRECT pricing and Warranty with the Manufacturer! Wall Mount vending machines: 10 selections of 10 products for selections of 100 packages or upgrade to our 18 selections 675 packages which expands to carry a maximum of 5700 packages. All machines can be equipped with coin changers, bill validators, credit card readers, DEX, and Internet accounting communication. We ship world wide. Call Toll Free for pricing 1-866-580-3328!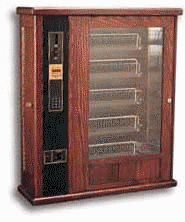 Universal Vending Consultants
(UVC), based in the Houston Texas area, specializes in vending machines specifically for the first time investor.
Phone: (281) 236-6451
1-877-643-8363 (VEND)
Vending Manufacturers, Inc
- We are a manufacturer of small wall mountable medical aid vending machines. The machine vends the OTC Meds. We also manufacture other small wall mountable machines.
Visit our website at:
www.vending-mfg.com