Saskatchewan Vending, Saskatchewan Vending Machine Services, Saskatchewan vending suppliers


Below you will find listings of vending Machine Suppliers in SASKATCHEWAN CANADA! These Saskatchewan vending companies may offer: Snack, Soda, Drinks, Coffee, Water, Food, Deli, Frozen, Ice Cream, Healthy vending, Micro Markets, Coin Operated Amusement games, Repair Services for your office or breakrooms! The vending machine companies are listed alphabetically by company name, please call theses companies direct for vending machine products & services information.
Also see: Vending in Alberta, British Columbia, Manitoba, New Brunswick, Nova Scotia, Ontario, Prince Edward Island, Quebec, Saskatchewan, Yukon,
Canada Vending Directory,
Click here to post your ad for only $25!
Saskatchewan Vending Machine Company Services
Photo/Logo
Contact info
Can-West Vending
- A Canadian Company serving Western Canada since 1983!
Fredco Vending
– Vending machine service company based out of Dundurn, Saskatchewan, Canada.
Mustang Vending
– Snacks, drinks, food, coffee vending services, based out of Regina, SK.
Red Carpet Vending and Refreshment Services
- Full Line vending machine services. Snack, Soda, Food, Candy, Healthy Vending and more! Based out of Prince Albert, SK.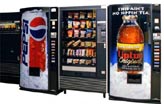 Service Plus Vending Company
– Full line vending machine services. Based out of Saskatoon, Saskatchewan, Canada.
Superior Vending- Saskatchewan's largest independent, full-service vending machine equipment supply company! Call us for your vending needs.
The Winfield Entertainment Group,
headquartered in Burnaby, British Columbia, is a consortium of companies whose primary business focus, involves the supply and service of coin operated entertainment equipment, as well as product vending equipment.