Saskatchewan Vending, Saskatchewan Vending Machine Services, Saskatchewan vending suppliers

Below you will find listings of vending machine suppliers in Saskatchewan Canada, Saskatchewan Vending companies that offer: Snack, Soda, Drinks, Coffee Food, Deli vending machines, Coin Operated Amusement games, Machine Repair Services and more!
Also see: Canada Vending Directory, International Vending Company Directory,
Click here to post your ad for only $25!
Company / Website
Saskatchewan Vending Machine Company Services
Photo/Logo
Contact info
Can-West Vending
– A Canadian Company serving Western Canada since 1983!
Fredco Vending
– Vending machine service company based out of Dundurn, Saskatchewan, Canada.
Mustang Vending
– Snacks, drinks, food, coffee vending services, based out of Regina, SK.
Red Carpet Vending
and Refreshment Services – Full Line vending machine services. Snack, Soda, Food, Candy, Healthy Vending and more! Based out of Prince Albert, SK.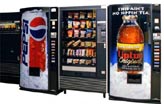 Service Plus Vending Company
– Full line vending machine services. Based out of Saskatoon, Saskatchewan, Canada.
Superior Vending
- Saskatchewan's largest independent, full-service vending machine equipment supply company! Call us for your vending needs.
The Winfield Entertainment Group,
headquartered in Burnaby, British Columbia, is a consortium of companies whose primary business focus, involves the supply and service of coin operated entertainment equipment, as well as product vending equipment.