Healthy SOY SNACKS for vending, Soy Snack food products for vending machines, snack bars,

Company / Website
Healthy Soy Snack Product Companies
Photo/Logo
Contact Info
Amport Foods is a family owned company that has been dedicated to providing quality dried fruit and snack products for over 50 years. Highest Quality, Lowest Prices! Sunflower Seeds, Soybeans, Trail Mixes, Soy nuts, Banana Chips and more!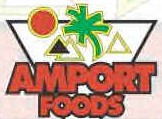 Phone: 612-331-7000
Fax: 612-331-1122
EatSmart All-Natural Snacks are always tastier and always better for you. Now, reduce carbs with Soy~Teins.
Also See Healthy Vending Machines