Newspaper Vending Machine Racks, newsracks, coin op newspaper racks, newspaper kiosks, newspaper rack suppliers

Company / Website
News Paper Racks + Coin Op News Equipment
Photo/Logo
Contact Info
Go Plastics – Honor News Racks, Newspaper vending machines.
Phone: 770-345-0535
Canada: 519-894-9498
K-JACK Engineering has been supplying the newspaper industry with newspaper equipment and circulation supplies. Our company policy has always been to produce the highest quality equipment that guarantees our customers many years of trouble-free service.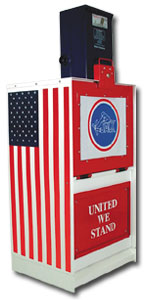 Phone: 800-775-5225
Local: 310-327-8379
Fax 310-769-6997
National News Vend – National News Vend has been serving the newspaper industry since 1974.
Offering News Racks of All types, New or Rebuilt. Call today!
Rak Systems – News Racks Coin Operated- Coin Operated, Single Copy Racks and Accessories. All of our coin operated racks will work ONLY with American and some Canadian currency.
Sho-Rack-We offer the newspaper vending machine in various styles and sizes with new graphic capabilities. The heavy duty coin operated newspaper rack has proven to provide many years of trouble-free, reliable service.
Phone: 361-594-2911 800-527-1134,
Fax-361-594-4264
Steel City Corp – Sells News Paper vending machines, newsracks, coin operated, honor racks, publication circulation machines.
TelEasy Corporation are Manufacturers, Software Developers of Bill Payment, DVD vending, Check cashing, Newspaper kiosks, Photo Kiosks and Internet Terminals.