Plush animals for sale, Wholesale plush stuffed toys, novelty plush suppliers
Company / Website
Plush Toy Company Discription of Services
Photo/Logo
Contact Info
A&A Global Industries has been a premiere vending supplier for more than 70 years. A&A provides unique plush, crane mix, prizes, and amusement kits in addition to bulk vending necessities such as toys, super balls, candy, gum, stickers, tattoos, capsules, machines and machine accessories.
Custom Plush Toys – Get your ideas manufactured into a custom stuffed toy by one of the leading plush toy manufacturers, Custom Plush Toys.com. Stuffed animals are our specialty, and they are used for trade show promotional giveaways, retail items, product launches,
and other uses.
Discount Plush
– We sell plush toys, plush stuffed animals. ALL types of plush & novelty product mixes available,
especialy for crane game machines and for FUN family entertaiment. FREE SHIPPING on All Orders!! (only orders within USA) CALL or
Click
Today: 1-800-303-1075.
King Plush, Inc. specializes in the design, manufacturing, importing, exporting and distribution of high quality stuffed toys at excellent price points. Known worldwide, King Plush provides soft and cuddly, stuffed toys to the Retail, Amusement, Corporate Premium and Vending Industries!
K&K Designs, manufactures and imports from China plush toys, watches, rubber balls, capsules and many other novelty items. Based out of Bloomington, Indiana.
A.L.D. Services is a supplier of quality Plush, Redemption, Crane, and Fundraising supplies for the Coin-Op and Fundraising Industries. Whether you need Quality, Premium Plush, Toys, Jewlery, or Novelties for your Coin-Op route, Family Entertainment Complex, Arcade or in quantities for your next fundraiser, call A.L.D. Services.
Prizes! inventories an extensive array of officially licensed sports souvenir novelty items for the NFL, MLB, NHL and NBA as well as for more than 90 colleges in addition to the latest and greatest "hot market" plush items suitable for the amusement crane industry and retailers.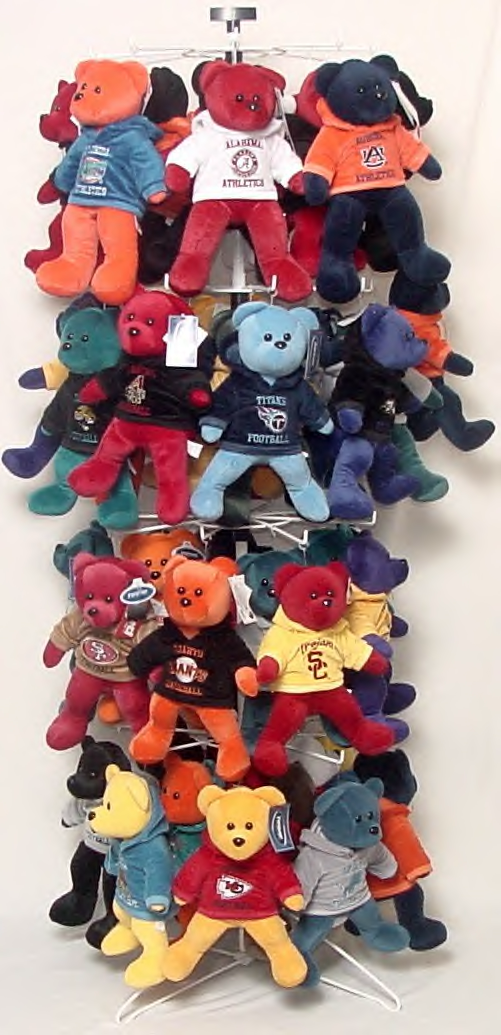 Star Track has a huge assortment of licensed stuffed animals including favorites like SpongeBob, Dora The Explorer, Looney Tunes, Muppets and Marvel. We also stock over 50 pre-pack crane assortments, Plush, Novelty, Toys, Candy, Drillomatics, Rotary Dishes, Sports Arena Kits, Gravity Hill and Jewelry/Key Chain Kits! Based out of Farmingdale, New York.
The Toy Factory – Featuring Awesome New Official Collegiate items, Spider-Man 3 Movie Plush, and a Galaxy
of our Out of This World Plush!