Pinball Machines for sale, coin op pinball game machines, pinball game suppliers
Coin Op Pinball Machine Company Services
AUTOMATED SERVICES WAREHOUSE SALE - 20,000 Sq ft. of THE LARGEST STOCK OF INVENDORY IN THE WORLD! Video Game Divison – Over 1000 Amusement Games for sale and Vending Machines for sale!! Includes Everyting from As-is to Reconditioned: Amusement Arcade Games, Redemption, Pimball, Playfield, Cabinets Project Game to New Bowlers, Bill Changer, Skeeball, Air Hockey, Coin-op to Non Coin-op Pool Tables. Juke Boxes 45′s or CD's. Lots of redemption sit down dirvers too! Conact Mike Jr. at 1-800-727-8363
Brady Distributing Company represents all the major manufacturers-about 70 manufacturers in all. If you are looking for video games, foosball tables, air hockey tables, pinball machines, jukeboxes, pool tables or used and reconditioned games for sale.
Lakeside Distributors – Amusement equipment, Bulk vending equipment and supplies. based out of Madisonville, Louisiana.
Phone: 985-845-7146
Fax: 985-845-0570
Macrown Electronics - Our current business includes: Crane Machine, Video Games and Cabinet, Amusement Games. We also have our own wooden/metal cabinet factory, electronics plant and we can supply spares parts as well.
PinballSales.com sells new and used pinball machines and parts, supplies. Check out our website today! or just call Jack.
PinRescue.com – We are a family business and we only work on the classy electromechanical pinball machines manufactured before 1978. This is our only business and we stand behind our restored pinball machines with the best comprehensive full coverage service plan in the world.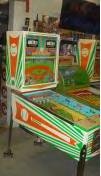 Stern Pinball, Inc – Pinball machines for sale.
The Pinball Company is now Ranked #1 in our category by Ranking.com. Our low prices and great selection have made us the MOST VISITED WEBSITE that specializes in the restoration and sale of pinball machines, arcade machines, and other game room equipment.