Xpresso Delight Offers Coffee As A Service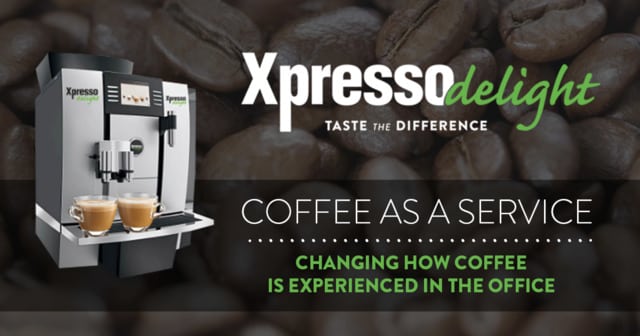 With over 50% of Americans over 18 drinking coffee daily (www.statista.com), coffee continues to be one of the most popular beverages in the United States. 
The popularity of coffee has helped 
Xpresso Delight's
coffee machine become valuable in offices and businesses in the United States have people who enjoy coffee that could benefit from this service.
Coffee Shop Quality Machines 
In 2020, coffee lovers have more options than ever before for enjoying their favorite beverage but most coffee makers often don't make the same quality coffee that can be purchased from a coffee shop. 
With Xpresso Delight's coffee as a service model, the coffee makers are made with state of the art technology and have a sleek design which fits perfectly in today's modern office or business environments. 
The Xpresso Delight machine brews coffee straight from the bean, this guarantees a wonderful fresh cup of coffee with each brew while eliminating waste. 
A Perfect Coffee Solution for Any Office 
With the Xpresso Delight machines, coffee drinkers have many options since the machine offers coffee in a wide variety of flavors and styles including Macchiato, Cappuccino, Flat White, Espresso and Latte Macchiato. 
Xpresso Delight says a benefit of having an in-house office coffee service is that it boosts employee morale and saves time, since instead of going out to a local coffee shop for coffee, employees can get the coffee "buzz" that they need while staying in the office., 
The company further says that unlike traditional coffee machines, Xpresso Delight machines make all of the traditional coffee shop favorites, are easy to use and maintain, plus there's no need to purchase an expensive machine when a business gets started with this service. 
100% Arabica Coffee Beans 
With the Xpresso Delight coffee machine, the coffee is made from 100% Arabica Coffee Beans which are imported from locations such as Columbia and Brazil. 
Beans are not roasted until they are shipped to the United States, which the company says guarantees coffee will be fresh for each customer. After being roasted, the beans are then shipped nationwide to Xpresso Delight clients and ground up with each cup.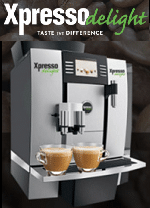 Eco–Friendly Coffee Company 
Since Xpresso Delight offers a "bean to cup" machine, the company says traditional coffee waste from other methods is eliminated
Xpresso Delight also says its machines are also more energy-efficient than the average coffee shop machine because they will switch to standby mode after some time and they will help to keep the energy bill low where the machines are placed. 
To learn more about Xpresso Delight, and their coffee as a service model, visit www.xdcoffee.com.
Contact Nigell Lee at nigell.lee@xpressodelight.com
---

 Vending Technology News | More News | Vending Newsletter sign up | Questions? Contact us | email press release
Also see: Software Companies | Technology Companies | Micro Markets | Cashless Vending | Distributors | Classified Ads | Routes for sale | Vending Companies USA | Home |
VENDING YELLOW PAGES DIRECTORIES:
Call us at 1-800-956-8363, POST YOUR COMPANY, GET NEW BUSINESS!