Xpresso Delight, More Than Traditional Office Coffee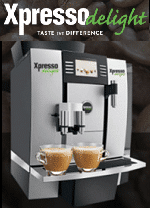 Xpresso Delight, an excellent coffee system that's easy to use and offers traditional coffee plus specialty drinks like lattes, espresso's, macchiatos, and lattes in minutes. 
Concierge Coffee Service
What makes Xpresso Delight different than other office coffee services on the market today is they offer an office coffee service that features more than just an impressive coffee machine, their service also offers 100% Arabica Coffee as well.
With this office coffee service, companies will see productivity increase because employees will spend more time in the office, and less time going out to buy coffee, or spending time cleaning and maintaining their office coffee system.
Xpresso Delights coffee as a service solution makes having fresh coffee a reality for every office thanks to their Swiss-made machine and 100% Arabica blend coffee that can't be found anywhere in the United States.
From traditional coffee to Espressos, the Xpresso Delight machines offers all of the features that a coffee drinker could want from a coffee machine including grinding fresh beans (no powders), automatically heating/frothing fresh milk, and more!
Fresh Coffee Every Time
Even though their machines are state of the art, the big question is what about the quality of the coffee?
Unlike some office coffee services that only claim to offer fresh coffee as a service, Xpresso Delight offers genuine fresh coffee. This is because their beans are imported to the United States, roasted locally, and delivered to Xpresso Delight customers.
Getting started with Xpresso Delight is easy, the company requires zero upfront costs, no contracts, and what's most ideal for operators is that they also offer franchising opportunities so that anyone can grab their share of the booming office coffee industry. 
To learn more about Xpresso Delight, visit their website at https://www.xdcoffee.com.