Why Should You Switch To Contactless Vending?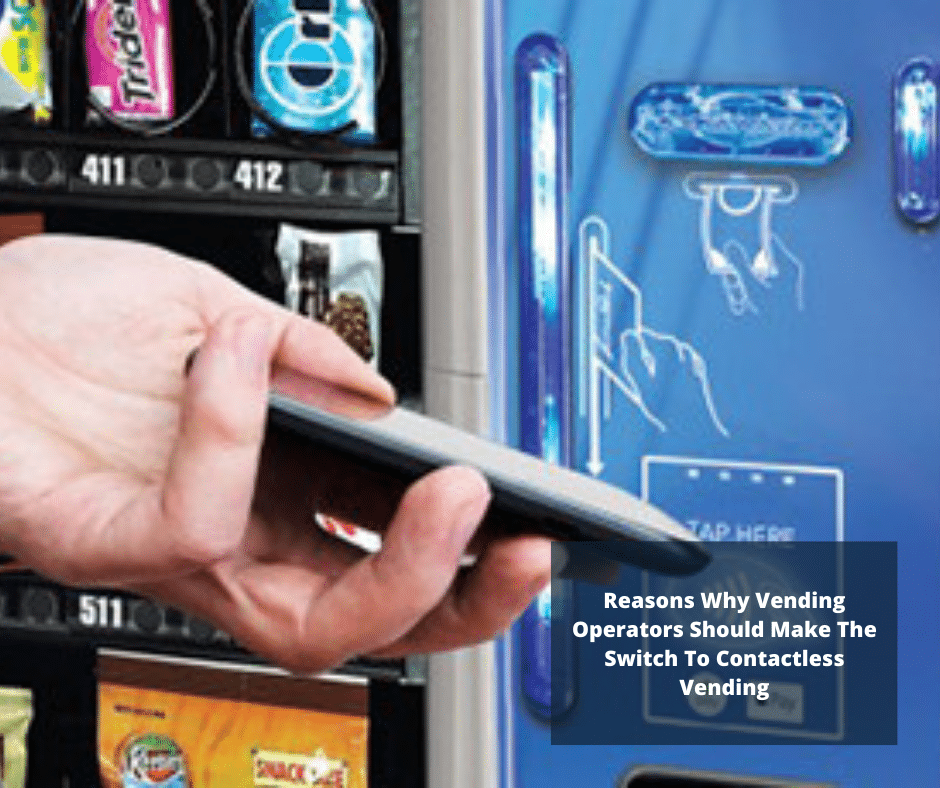 Are you thinking about making the switch to contactless vending for your vending machines but you're not sure if it's the right fit for your business? If so, you've come to the right place! 
Even though contactless vending has been a 'buzzword' in 2020, the reality is that this technology has been around since 2014, with vending some vending companies started converting their machines to cashless systems. 
From the moment that cashless vending started to become an option, consumers began to accept it with open arms because, since the launch of the first iPhone in 2007, most consumers have been accustomed to doing many things from their smartphones. 
By 2017, cashless vending had become an accepted part of everyday business and some vending operators reported an increase in their sales by as much as 30%. This success rate paved the way for more vending owners to accept contactless vending, and to be open to the latest contactless solutions that are in the market today. 
Contactless Vending Thrives During Covid-19 
By March 2020, vending operators who had already converted their machines over to cashless and contactless vending solutions were already thriving in a technology–driven world but when Covid-19 hit, those machines became even more essential as consumers were keen to avoid touching surfaces to reduce the spread of the virus.  
With Coronavirus still an issue around the world, nearly half of all consumers (46%) are using contactless payment methods because they bring peace of mind to the consumer who wants to avoid spreading the virus., 
Eight Out Of 10 Consumers Want Contactless Payment Options 
Eight out of ten consumers worldwide have now changed how they interact with vending machines because they want to reduce contact with surfaces. This means that a consumer will not just put cash or coin into a vending machine as they may have in the past. They want to see that a vending machine offers them contactless payment options or they will not buy until they find another machine that offers them that option. 
As Covid-19 enters it's 'the second wave' around the world, the importance of contactless vending cannot be understated. 
Besides providing consumers with peace of mind, and helping them to avoid spreading the virus, contactless payment solutions also are effective in 2020 because recent studies have shown that one in five consumers don't carry cash but, they carry a mobile phone. This means that the average consumer can use their smartphones to purchases beverages, foods, or other small purchases. 
A Few Contactless Payment Solution Providers:
Touchless Vending Articles:
After reading this article, we hope you have a clear understanding of the benefits of contactless vending, especially how it can help you to do your part to slow the spread of the virus and grow your business in a technology–driven world.  
By Jeremy Raglin, Editor
---

 Vending Technology News | More News | Vending Newsletter sign up | Questions? Contact us | SUBMIT PRESS RELEASE
Also see: Software Companies | Technology Companies | Micro Markets | Cashless Vending Solutions | Distributors | Classified Ads | Routes for sale | Vending Companies USA | VendLoco Lists | Home |
VENDING YELLOW PAGES DIRECTORIES:
Call us at 1-800-956-8363, POST YOUR COMPANY, GET NEW BUSINESS!