What Is Optical Touch? The Next Big Technology For Vending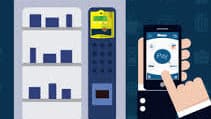 The vending industry has evolved in 2020 as the Covid-19 pandemic has pushed operators to implement touchless technology so that their customers don't have to touch any surfaces.  Even though touchless technologies are rising in popularity, some customers still want to have the convenience of being able to touch buttons. The big question is how can customers touch buttons, without actually touching them?  
A real solution is Optical Touch. With this multifaceted technology, vending operators can now offer their customers the convenience of being able to interact with buttons, without having to touch the vending machine. 
Touch Sensing  
With touch sensing solutions, the vending machine keys can be displayed via a 100% retained image.  This creates a germ-free environment so that a customer can have the ability to interact with the vending machines' keys without having to touch them. 
Gesture Sensing 
Another exciting version of Optical Touch is gesture sensing. This technology makes it possible for a vending machine to accurately determine the movement and position of an object. What's even more ideal about this technology is that it will also 'wake on approach' and be ready for use. 
Where Do Vending Operators Find This Technology? 
Implementing touchless technology like touch sensing and gesture sensing should be a priority for every business owner.  If you're interested in implementing this technology in your vending machine or micro-market, the go-to company for this advanced optical touch technology is Neonode. 
With more than 120 patents and their technology deployed in over 75 million products worldwide, Neonode is a company that you can trust to deploy advanced optical touch technology for your vending and micro-market machines. 
To learn more about Neonode, visit their website at https://neonode.com or call +46 8 667 17 17. 
---

 Vending Technology News | More News | Vending Newsletter sign up | Questions? Contact us | SUBMIT PRESS RELEASE
Also see: Software Companies | Technology Companies | Micro Markets | Cashless Vending Solutions | Distributors | Classified Ads | Routes for sale | Vending Companies USA | VendLoco Lists | Home |
VENDING YELLOW PAGES DIRECTORIES:
Call us at 1-800-956-8363, POST YOUR COMPANY, GET NEW BUSINESS!