VICKI AI-Powered Smart Stores Provide Extra Layer of Protection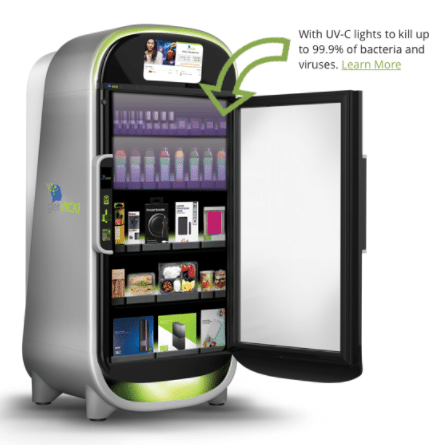 Nurses and healthcare workers across the United States (and worldwide) have been on the frontlines fighting Covid-19 for the last 12 months so it makes sense for hospitals and healthcare sites to do everything possible to stop the spread of Covid-19 and other viruses.
Thanks to a recent partnership between ViaTouch Media, creator of VICKI AI-powered smart stores, and M.M. Hayes, nurses and healthcare workers are getting an 'extra layer' of protection in hospitals.
Gone are the traditional cash and coin vending machines from the past as more hospitals and healthcare sites nationwide are opting for VICKI AI-powered smart stores that also have Quickcharge, a frictionless payment platform that eliminates the need for anyone to touch the vending machine.
Embracing The New Normal
Keeping the focus on nurses and healthcare is important during these times because they are giving their lives to stop the spread of Covid-19 in the United States and around the world.
VICKI AI-Powered machines will make it easy for nurses or hospital employees to purchase the foods, beverages, or health products that they want without having to touch the machine and potentially spread Covid-19 or other viruses.
"Our partnership with M.M. Hayes is a natural fit as the company is at the forefront of enabling cashless, contactless payments. It supports the way people want to shop now, avoiding pandemic exposure, and over the long term, purchasing food and beverage, electronics or health products with greater efficiency and with the added experience of VICKI's interactive communication," Tom Murn – ViaTouch CEO
Automatically Sanitized Machines
Unlike most traditional vending machines that require an actual physical touch to keep them clean and sanitized, VICKI AI-Powered Smart Stores are automatically sanitized with UV lighting after each customer visit.
This feature, along with Quickcharge provides consumers with peace of mind knowing that they can get the foods or beverages that they want without having to touch the vending machine.
To learn more about VICKI AI-Powered Smart Stores, and their partnership with QuickCharge, visit http://www.getvicki.com. Contact Jim at email jimsirignano@viatouchmedia.com, Phone: 866-942-0804.