Vending Machine/C-Store Hybrid BingoBox Establishes A Foothold In China, Looks To Expand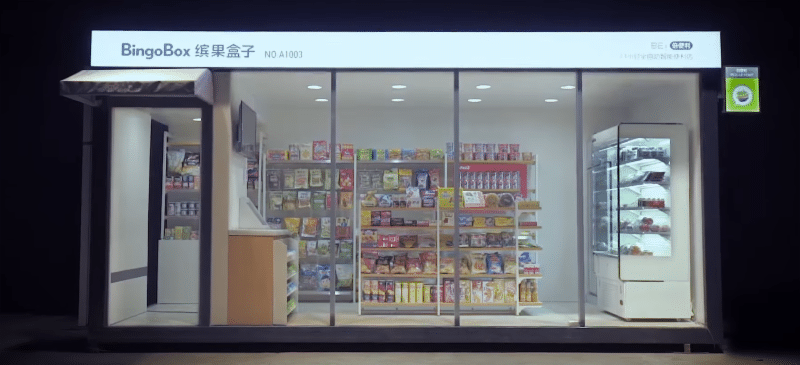 BingoBox, described as a cross between a vending machine and a convenience store, has a footprint of more than 300 installations in China and has its sights set on the rest of the world. The high-tech innovation, presented during the ShopTalk conference in Las Vegas earlier this year, has a head start over Amazon Go, the cashierless retail solution that many have called the convenience store of the future.
The BingoBoxes have been installed in 30 Chinese cities under contract with seven city governments, according to the presentation by Hans Tung, a managing partner at GGV Capital, a BingoBox investor.
After gaining access to the unattended, freestanding store using a mobile phone to scan a QR code, the customer can select from an assortment of products. To check out, the customer places the items on a counter, scans a QR code, then pays with Alipay or WeChat. As the customer approaches the exit, a sensor near the door can automatically detect any unpaid items. The door will only unlock once all items have been paid for.
Transactions take an average of one second, compared to 8.6 seconds for manual checkouts, and have been completed with 99.6 percent accuracy, Tung noted.
The 24-hour store uses facial recognition to authorize store access, Tung said. According to a video on the BingoBox website, the facial recognition identifies the shopper upon entry and surveillance cameras  allow employees at offsite locations to monitor store activity in real time.
BingoBox uses radio-frequency identification technology to track items with a tag containing electronically stored information.
The stores cost less than $632 per month to operate, Tung said, and payback is achieved in five months. The average BingoBox store makes $150 to $300 per day, according to GVV.
BingoBox has also introduced a "mini" version that can go inside of traditional retail stores, Tung said.
BingoBox investors Qiming Venture Partners, Source Code Capital, Ventech China and GVV Capital, participated in a $14 million funding round, according to China Money Network.
For more information visit www.bingobox.com
By Jeff Adair, Editor
---

Vending Technology News | More News | Vending Newsletter sign up | Questions? Contact us | email press release
Also see: Software Companies | Technology Companies | Micro Markets | Cashless Vending | Distributors | Classified Ads | Routes for sale | Vending Companies USA | Home |
VENDING YELLOW PAGES DIRECTORIES:
Call us at 1-800-956-8363, POST YOUR COMPANY