Vagabond Releases vīv Delivery To Empower Operators With Last Mile Fulfillment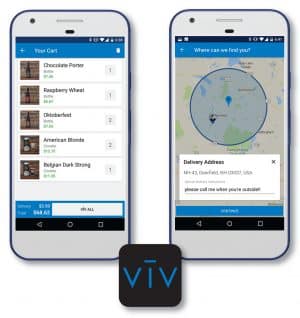 Vagabond announced the release of vīv Delivery, a targeted local commerce solution for route operators and their accounts. vīv Delivery adds new revenue streams while making operators the centerpiece of business in their local community. vīv Delivery is based on the premise that operators in the convenience services industry should provide comprehensive market, breakroom and catering services to accounts and rightfully take a slice of the dollars spent on all products consumed in the workplace.
vīv Delivery allows consumers and businesses to order select items for delivery from their favorite local merchants while allowing merchants to offer product to consumers in a targeted manner. Operators can wholesale pre-ordered products from their warehouse or commissary and also work with local businesses such as restaurants and breweries to onboard their menu with vīv, allowing consumers to see what items are on offer.
Just as with vīv Vending and vīv Markets, consumers only see what products are on offer in their building and can choose from flexible payment options to purchase their favorite supplies, meals or drinks through a secure payment method.
With vīv Delivery, Vagabond introduces the next great innovation in micro-markets — Hybrid Markets. Hybrid Markets fight theft and spoilage by allowing consumers to pre-order fresh foods to be picked up at their market or breakroom fridge.
Operators can increase variety and reduce commissary costs by using vīv to offer selections from local restaurants and pre-packaged meals to companies. In total, the Hybrid Market & Delivery concept powered by vīv enables operators to take a piece of the revenue from all food consumed in the workplace — even that which they do not deliver themselves.
For more information visit https://vgbnd.co
---

Vending Technology News | More News | Vending Newsletter sign up | Questions? Contact us | email press release
Also see: Software Companies | Technology Companies | Micro Markets | Cashless Vending | Distributors | Classified Ads | Home |
VENDING YELLOW PAGES DIRECTORIES:
Call us at 1-800-956-8363, POST YOUR COMPANY