Vagabond and Automated Merchandising Systems Showcase AMS Touchless machine at NAMA OneShow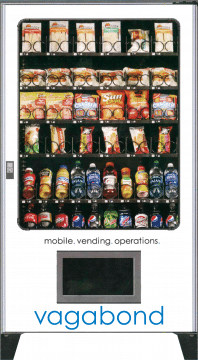 Washington, DC, April 19th, 2017 – Vagabond (vgbnd.co) and Automated Merchandising Systems (amsvendors.com) announced the release of the AMS Touchless, available to reserve immediately at vgbnd.co/marketplace. The AMS Touchless machine showcases forward thinking clean design without peripheral components such as bill validators, coin mechanisms or credit card readers anywhere on the machine. Instead, the machine relies on Vagabond's embedded vīv commerce platform for all purchases. By eliminating the need for additional components, the AMS Touchless features space for a 6th selection in the snack trays, drastically reduces the "out of service" visits for operators, enables operators to rent or purchase the machine at 20% less cost than other AMS ambient snack machines and engages consumers with a beautiful experience.
Operators can reserve this one-of-a-kind machine for rent or purchase from Vagabond at vgbnd.co/marketplace. The machine comes off the manufacturing line wrapped with graphics that promote the vīv touchless vending commerce platform to consumers. Distributors and operators placing larger orders can also customize the graphics to fit their needs. AMS President Sharon Shull noted, "We are happy to continue the tradition of our founder, Roy Steeley, and apply innovative technology that transforms the way the industry positions itself in the world and to release a ground-breaking machine design accessible to operators of all means." Compared to standard ambient snack machines the AMS Touchless provides 20% more retail space, 90% fewer service calls, 25% longer restock cycles, embedded instant telemetry & VMS capabilities, and a built-in vīv commerce engine, all in a brand-new machine at the same cost as completely refurbishing an older machine.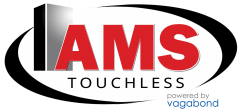 AMS and Vagabond will be showcasing the AMS Touchless at their respective booths, 1027 and 227, at the NAMA OneShow in Las Vegas April 19th through April 21st. Visitors at the show will be able to experience the AMS Touchless in person and make vīv purchases without touching the machine. "We are very proud of the forward-thinking partnership we've developed with AMS to release a machine that represents the future of the industry with today's technology. The AMS Touchless perfectly aligns with Vagabond's mission to provide solutions that reduce the costs of operating vending machines by bringing to market a machine with 30% lower total cost of ownership. With AMS we've extended our mission to the design of the machine itself," said Vagabond Founder and CEO, Michael Lovett. The first iteration of the AMS Touchless machine available is the ambient snack version with other lower temperature models available to reserve at the end of 2017.
Vagabond (vgbnd.co) provides technology, operations and commerce solutions for the food and beverage services community. Vagabond's software enables operators to triple profits by dynamically managing schedules, inventory, routes and financials. Vagabond allows all stakeholders with access to instant data delivered by the industry's most flexible communications network. Vagabond's One Rate program allows operators to tap into Vagabond's project implementation and banking resources to quickly deploy technology to enhance profits in existing operations and to acquire other vending routes to scale quickly. Vagabond's vīv commerce platform enables businesses to delight consumers with a beautiful retail experience while establishing direct relationships between brands, retailers and consumers.
About Automated Merchandising Solutions (AMS)
AMS (amsvendors.com) machines are built with state-of-the-art materials and technology. They are purposely designed to be rugged, reliable, and reasonably priced. The interchangeability of parts means you store fewer spares. It also means you can change configurations quickly.
Many AMS vendors feature the patented Sensit® Guaranteed Delivery System. At the manufacturing plant in Kearneysville, West Virginia, each vendor is inspected and signed for before it leaves the plant. This meticulous care in building is backed up by a staff of customer support and technical assistance specialists who are available to help with all vending questions.
---

Vending Technology News | More News | Vending Newsletter sign up | Questions? Contact us | email press release |
Also see: Software Companies | Technology Companies | Micro Markets | Cashless Vending | Distributors | Classified Ads | Home |
VENDING YELLOW PAGES DIRECTORIES:
Call us at 1-800-956-8363 to POST YOUR COMPANY, or QUESTIONS?