USA Technologies To Integrate With Apple Pay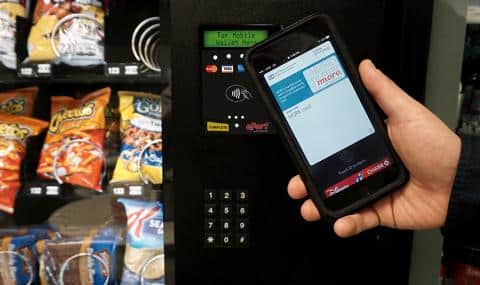 USA Technologies plans to integrate its MORE loyalty and payroll deduct platform with Apple Pay for use at up to 300,000 machines nationwide. Following the integration, operators will be able to offer an enhanced experience to their customers using Apple Pay, which is transforming mobile payments with an easy, secure and private way to pay.
In turn, consumers making a purchase will be able to take advantage of exclusive offers, promotions and discounts toward future purchases at participating machines connected to USAT's ePort Connect platform. USA Technologies plans to roll out the technology to select locations nationwide over the coming months.
Integrating the MORE loyalty program with Apple Pay will allow operators to give consumers a nearly frictionless loyalty and payment experience. Rather than going through a cumbersome process to swipe a physical card or pay with cash, consumers paying with Apple Pay will simply hold their iPhone or Apple Watch to the contactless reader to pay, earn and redeem loyalty points with a single motion if they are already participating in USAT's MORE program.
If they are not yet participating in MORE, they will have the opportunity to instantly enroll and have the digital loyalty card added right to Apple Pay. The experience from start to finish is more efficient for both operators and consumers.
"Consumers are getting more accustomed to paying with their phones, and with all of the digital noise coming at consumers 24/7, loyalty and rewards programs that easily integrate into popular payment methods like Apple Pay are a win/win," said Maeve McKenna Duska, senior vice president of sales and marketing at USA Technologies. "By offering MORE with Apple Pay, we are giving consumers a loyalty program that seamlessly integrates with their lifestyle, rewarding them for using the one thing they always have on hand, their iPhone or Apple Watch."
When a consumer uses a credit or debit card with Apple Pay, the actual card numbers are not stored on the device, nor on Apple servers. Instead, a unique device account number is assigned, encrypted and securely stored in the consumer's device. Each transaction is authorized with a one-time unique dynamic security code.
In connection with the integration of the MORE loyalty program with Apple Pay, USAT is collaborating with Urban Airship, a mobile growth company, to bring enhanced consumer marketing solutions to the mobile wallet demo of the MORE loyalty program, via Urban Airship Reach, a powerful platform that creates virtual cards for and manages the loyalty program user experience design, promotions, point balances, etc.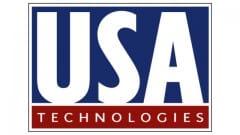 Any consumer that presents an iPhone or Apple Watch at a participating location will receive an electronic prompt to join USAT's MORE program. Consumers that opt in can then add a MORE loyalty card right to Apple Wallet and immediately begin reaping benefits every time they use Apple Pay at a participating machine, as the loyalty information will be automatically shared with the transaction.
For more information: www.usatech.com, Phone: 800.633.0340, sales@usatech.com
---

Vending Technology News | More News | Vending Newsletter sign up | Questions? Contact us | email press release |
Also see: Software Companies | Technology Companies | Micro Markets | Cashless Vending | Distributors | Classified Ads | Home |
VENDING YELLOW PAGES DIRECTORIES:
Call us at 1-800-956-8363 to POST YOUR COMPANY, or QUESTIONS?