TouchPoint Science Solutions For Safer Vending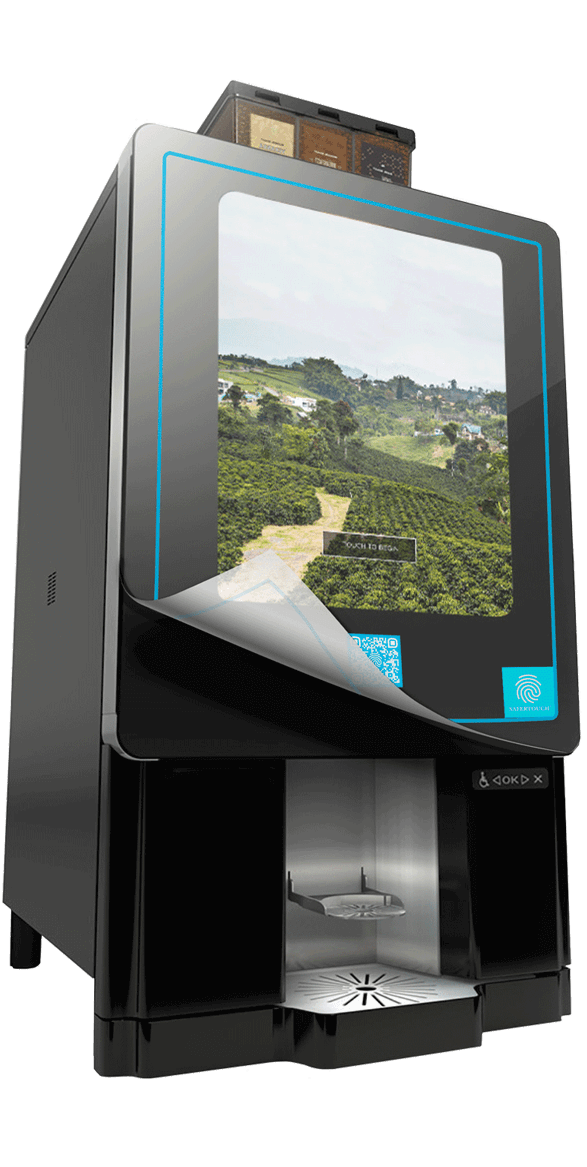 Using science to make surfaces safer to touch, Safertouch™ features a proven and durable antimicrobial technology that is designed to protect your most important surfaces.
Our world has suddenly changed and more than ever people are taking action to prevent the spread of infections. Handshakes and high fives are taboo and we are trying to keep a safe distance from everyone. We can be smarter as we get back to work and it will be a combination of behavior and technology that make a difference going forward.
TouchPoint Science antimicrobial technology inhibits the growth of microbes on surfaces, making it ideal for a diverse set of applications. Touchpoint Science has incorporated this technology in a custom, vinyl overlay for your most popular touchscreens, door handles and at-risk surfaces. The agent on the substrate is based on EPA registered ingredients that have been used for decades to control the growth of microbes in a variety of applications from medical devices to consumer goods.
Where Can TouchPoint's Technology Be Applied? 
With TouchPoint's vinyl overlay technology, it can be applied almost anywhere on a vending machine, including touch screens, keypads,  handrails, order screens, and delivery doors. 
Before Coronavirus, these vinyl overlays were most commonly used on tablets and or mobile phone screens. Since Covid-19, it's not been uncommon to find vending machines around the world retrofitted with vinyl overlays to protect their customers.  
What's great about TouchPoint is that in most cases a vending operator can order a vinyl overlay to come precut for their machine and it takes just minutes to apply the vinyl overlay to commonly touched surfaces on a vending machine.  
TouchPoint's vinyl overlay technology is based on ingredients that were originally registered by the EPA years ago and have been in use for decades to control the growth of microbes in a wide variety of goods from consumer items to medical devices.  
Safertouch surface protection can be custom fitted and applied over any touch screen. The films incorporate optimized antimicrobials to protect the surface from microbes. Substrate is a 4ml vinyl that is thin enough to allow for consistent touchscreen control.
Touch Screen Overlays
Safertapes
Door Handles
Countertop Sheets
Custom Applications
Needs To Be Replaced Every 3-6 Months 
Antimicrobial vinyl overlay technology by TouchPoint costs average of $8 per vending machine, the cost is well worth it since you only have to apply it once every 3-6 months, depending on the foot traffic to your vending machine location.  
Touch Point Science's Troy Hinkle, a partner in the company, has a background of 30 years in vending.  The background of the other partners is 20 years with the major film makers.
The company is selling product directly to vending operators, not only to protect consumers using their machines, but also as a potential add-on business.  Hinkle suggests that when operators conduct sales calls on the people in charge of the vending location that they ask what are the most commonly touched surfaces at that particular facility.   He is looking for answers like doors, handrails, etc.  Hinkle's concept is that the vending operator can sell the location manager on using the film to cover other surfaces as well.   It's a repeat up-sell potential as the film needs to be replaced every 3 to 6 months, depending on the application.  He says he would rather help the operator create an add-on sale, rather than have some other suppler come in through the back door another time and sell the location manager the film to protect other common surfaces.
"We're part of the solution of trying to get people back to your equipment." — Troy Hinkle

To learn more about TouchPoint, and their vinyl overlay technology, visit their website today at https://touchpointscience.com., Call ‭(470) 300-9804, troy@touchpointscience.com
By Jeff Adair, Editor
---

 Vending Technology News | More News | Vending Newsletter sign up | Questions? Contact us | SUBMIT PRESS RELEASE
Also see: Software Companies | Technology Companies | Micro Markets | Cashless Vending Solutions | Distributors | Classified Ads | Routes for sale | Vending Companies USA | VendLoco Lists | Home |
VENDING YELLOW PAGES DIRECTORIES:
Call us at 1-800-956-8363, POST YOUR COMPANY, GET NEW BUSINESS!