Tiny Grocery On A Roll With Unique, Automated Fresh Food Concept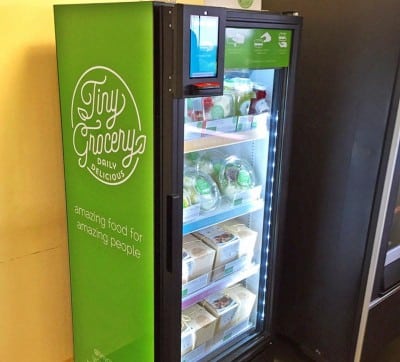 Swipe your credit card, open the glass door, grab that chicken salad and eat at the office. Easy, fast and satisfying, courtesy of Tiny Grocery. In one year, Tiny Grocery, a provider of a unique fresh food service in Washington, D.C., has secured 50 locations. The company's automated food service, delivered through glassfront, card-controlled machines, complements parent company ScratchDC's four-year-old meal delivery service, which has also been on a rapid growth track.
For owner Ryan Hansan, the expansion from meal delivery service to refrigerated vending was a matter of meeting customer needs. Once customers tasted ScratchDC's locally prepared, refrigerated salads, sandwiches and beverages, they wanted to have them available at their worksites. "We saw a need in the market," Hansan says.
The glass-door refrigerator with card-controlled access provided the obvious solution. ScratchDC already provided the food preparation. "That allowed us to start doing the fresh food vending," Hansan says.
Tiny Grocery currently uses a refrigerator produced by San Rafael, Calif.-based Byte Foods. The machine comes with its own real-time inventory management software. The system tracks the shelf life of every item in the machine.
"It's a cool piece of technology that we're excited to have," Hansan says. "Theft is virtually impossible."
The vending machine has an electronic screen at the top left displaying the menu, nutrition information, allergens and the price for each item. Customers open the machine door by swiping their credit card. Each item has an RFID tag embedded in its package that automatically charges the credit card once the customer selects the item.
The machine has an inventory management system that allows Hansan to monitor the machines' inventories in real time. The machines are serviced two to three times per week.
The menus are not standardized; meals are tailored to individual locations based on customer feedback. The company actively solicits customer feedback on its website.
Prices are comparable to those found at fast casual restaurants.
Tiny Grocery delivers food to customers using its own drivers. The Tiny Grocery deliveries are separate from the ScratchDC operation.
Hansan did not wish to reveal his food loss rate, but he said it falls below the industry average.
Tiny Grocery serves some of Monumental Vending's customers, Hansan notes. "It's a mutually beneficial relationship," he says. Beltsville, Md.-based Monumental Vending is one of the nation's largest refreshment service operations. (www.TinyGrocery.com)
ScratchDC produces meal kits that it delivers to customers. The kits are delivered by contracted transportation services. Unlike other meal delivery services, ScratchDC is not a subscription service. The company does not use a standard menu; new items are offered daily. The kits contain two meals along with preparation instructions. Ninety percent of the food the company serves is prepared in-house.
ScratchDC sources food from local farms along the East Coast. Food is prepared at the ScratchDC kitchen. The company rents out the use of its kitchen, called TasteLab, to other foodservice companies.
Some of ScratchDC's food providers include Mother Earth Organics in West Grove, Pa., Bell and Evans in Fredericksburg, Pa., I Love Produce in Kelton, Pa., Shenandoah Growers in Harrisonburg, Va., Kreider Farms in Manheim, Pa., and Friendship Dairies in Friendship, N.Y. (www.scratchdc.com)
—By Elliot Maras
---
Home | Vending Technology News | More News | Vending Newsletter sign up | Questions? Contact us | email press release |
Also see:  Technology Companies | Refrigerated Vending Machines | Software Companies | Micro Markets |
VENDING YELLOW PAGES DIRECTORIES:
Call us at 1-800-956-8363 to POST YOUR COMPANY, or QUESTIONS?