Three Square Market Offers Route Management Feature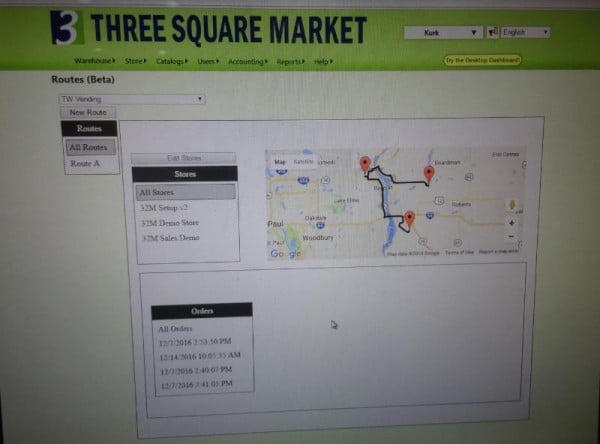 Three Square Market has introduced a feature that allows operators to manage micro market routes right from their administrative system. The feature is designed to help 32M operators service their end user clients more efficiently than with a point and click of the mouse.
"Several of our clients have asked us to produce a VMS option," said 32M President Curt Giles. "We felt this was our best step forward to assist both operators without a VMS and ones that do. Regardless of how many routes or frequency of delivery to market locations, this technology takes all the guess work out of ensuring your markets are full with the right amounts of the right products."
This new feature allows operators to load their route schedule in to the the 32M administrative software. Using 32M's proprietary sales analytics and the operator's route schedule, the system will indicate automatically what the operator must bring to ensure markets stay full from one delivery to the next. It also assists in warehouse inventory management, incorporating route schedules to ensure operators are purchasing the right quantities of product to keep their warehouses full, yet not wasting product due to dating issues.
"While this is ideal for the operator who doesn't have a VMS, it also has features that will feed data to any VMS system that ensures it merges the intelligence of both systems," said 32M COO Patrick McMullan. "We believe system integration in a seamless fashion is one of the critical futures of this business, and using the strengths of both systems means the operator gets the best options to serve its customers in the end."
32M has several new enhancements, including the recently released nutrition on the kiosk feature, the route management rollout, and a wellness program soon to be announced.
For more information see: www.32market.com
By Elliot Maras
---

| Home | Vending Technology News | More News | Vending Newsletter sign up | Questions? Contact us | email press release |
Also see: Software Companies | Technology Companies | Micro Markets | Cashless Vending | Distributors | Classified Ads | Home |
VENDING YELLOW PAGES DIRECTORIES:
Call us at 1-800-956-8363 to POST YOUR COMPANY, or QUESTIONS?