Three Square Cooler Café, Self Checkout Cooler
Three Square Cooler Café not only offers vending operators the ability to carry all of the products that consumers could want or need, including beverages, food, fresh food, it also accepts multiple payment methods.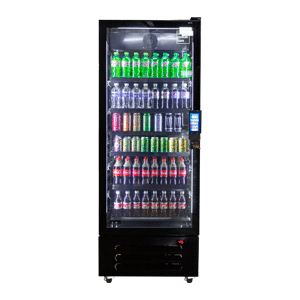 SmartLock Protected Cooler
Unlike other coolers that can only carry a few items at a time, this SmartLock capable cooler offers four adjustable shelves, a net capacity of 22.6 cubic feet, and a temperature range of (32°F to 45°F) so it can store most food items.
The Cooler Café also offers:
Electrical – 120 VAC, 60 Hz, 5 amp. Circuit Breaker – 15 amp. 
Compressor – R-290, 2/5 HP
Interior LED Light Strips – Sidewalls & in Canopy
Door Glass – Double Pane
Casters/Leveling legs – 4 casters + 2 front leveling legs
Colors – Black or White interior/Black exterior.  Cabinet floor – Stainless Steel
Three Square Market offers a variety of coolers to choose from that come in different sizes and price points.
"In the midst of COVID-19, we spent our time looking for ways that we could take our technology to the next level – allowing our friends and clients in the vending and convenience industry to keep their businesses alive and profitable," said Patrick McMullan, president of Three Square.
The "Cooler Café" came from a need to provide healthy, fresh meal products to essential employees at locations open 24/7. "We saw a need, and we found a way to combine our existing Norm Technology coolers and SmartLocks, with a micro-market/vending need in spaces," said VP of Sales, Kurk Johnson.
Made by Three Square Market, one of the major companies that specialize in making café style coolers, fixtures, displays, and other items for office coffee and micro markets. To learn more about the Cooler Café by Three Square Market, visit their website at www.32Market.com.