The Venders To Introduce Machines With Interactive Screens At NAMA OneShow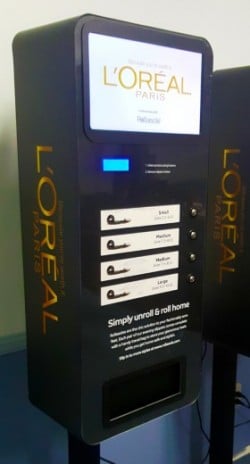 A pair of automation and software veterans has launched an automated dispensing kiosk to allow retailers and brand owners to sell products in high-traffic areas where space is at a premium, such as convenience stores, airports, hotels and special event locations.
Bryan Ross and Robert Bienias, the team that created Flix on Stix – a movie rental system that downloads full-length movies from a small kiosk onto a portable flash drive; and Faith Media Center – an app-based software program designed to allow purchases of products, with proceeds benefiting the consumer's charity of choice.
The team has also designed automated retailing and vending systems for PepsiCo, Farmers Fridge, Wrigley's and others.
The Venders new "Slimline" Collection can be wall mounted or placed on a small stand. The Slimline models feature high-definition interactive screens that engage consumers, attract interest and promote sales.
"We are using our expertise in software, app development and kiosk design to create a new generation of automating retailing and vending systems that are unlike anything else on the market," said Ross. "We will be having several more product announcements within the next few months, and are unveiling some of our latest innovations at the NAMA One Show in April."
For more information on The Venders, visit www.the-venders.com.
---

Vending Technology News | More News | Vending Newsletter sign up | Questions? Contact us | email press release |
Also see: Software Companies | Technology Companies | Micro Markets | Cashless Vending | Distributors | Classified Ads | Home |
VENDING YELLOW PAGES DIRECTORIES:
Call us at 1-800-956-8363 to POST YOUR COMPANY, or QUESTIONS?