The Case For Artificial Intelligence In Vending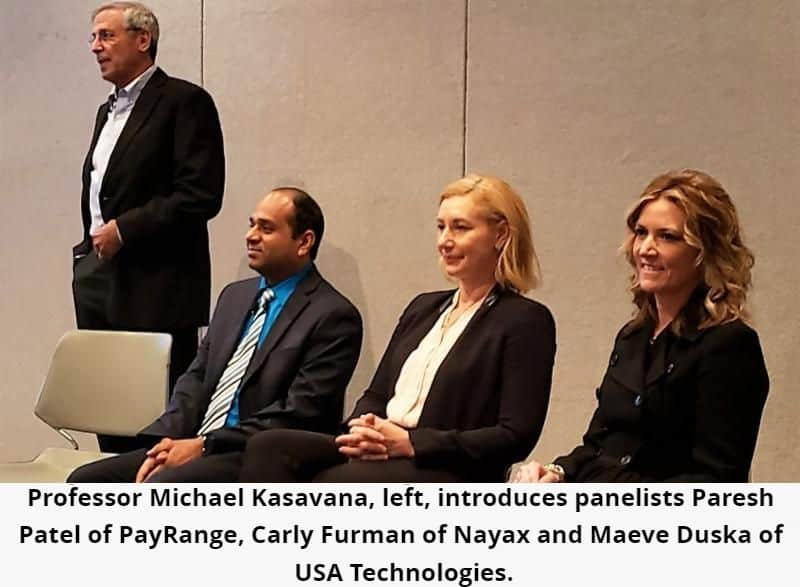 Tomorrow's successful vending operators will be the ones who take advantage of emerging technologies such as artificial intelligence (AI) and various interactive opportunities which already exist in other convenience services, according to a panel of industry experts.
Addressing the subject at the recent National Automatic Merchandising Association show at the Las Vegas Convention Center were Paresh Patel, CEO of PayRange, Carly Furman, CEO of Nayax and Maeve Duska, SVP Marketing and Strategic Development of USA Technologies. Professor Michael Kasavana, NAMA endowed professor emeritus, moderated the session.
All agreed that vending operators understand AI and how it has affected their personal lives through transactions with Netflix, Amazon, social media and more, but may be hesitant to apply the technology to their own operations.
Because of AI familiarity, panelists suggested operators should have no trouble transitioning to new technologies which could ultimately streamline an operator's bottom line. Panelists also suggested operators should begin collecting deep data now so that when they are ready to implement AI they will not need to reconstruct statistics from scratch.
According to Patel, AI is improving the unattended retail experience by recommending stocking decisions, but vending is lagging behind others in the convenience sector. Patel explained that data compiled through AI can help reduce an operator's costs by cutting certain types of customer service interactions and can increase profitability by analyzing information and making product recommendations.
"Operators using AI will be able to leverage the data they collect now in order to grow sales in the future," Patel said. "The sooner you collect data, the better you will be. You don't need to know how to use it yet; you need to understand your customer to leverage your sales. Artificial intelligence simplifies things for the consumer and provides a lot of power (for the operator) at the same time."
Furman said unattended retail lacks the convenience consumers enjoy today in e-commerce where retail payments are secure and dynamic with information being digitized through EMV payments and chip cards. She said vending operators should examine how other convenience retail segments are harvesting data from electronic transactions and should start digitizing all the information they currently have in anticipation of using it to set up alternative pay methods.
"Swipe is antiquated. Everything is headed EMV by the 2020s to reduce liability and risk," Furman said. She added the future of vending transactions will be secure, controlled transactions through payment wallets and cryptocurrency, allowing operators to offer services unavailable in vending today, such as instant refunds, gamification and the ability to know and re-target customers.
"Digitization generates growth. This is how e-commerce evolved. It is important (for vending operators) to learn from other convenience services or be left behind," she added.
Duska stressed that there is tremendous value in connected machines which can provide more data and hyperpersonalization of data. She said consumers want to connect with the brand, and retailers who dig deep into data can do that. "Consumers want to be left alone, but want you to know who they are and what they want. (Consumers) don't want to talk to a human," she added.
Hyperpersonalization, she said, enables this non-contact as AI compiled through connected machines can determine not only what a particular consumer wants, but also what interests the person at the machine.
According to Duska, proper data compilation and AI can provide personalized pricing and promotion as well as incentive programs at a vending machine. "If the machine knows you are there, it can send a special code to you to prompt you to complete the sale."
According to Duska, vending operators need to prepare their infrastructure for whatever technology may come in the future, and that includes compiling data as deep as a company can, even if the company doesn't know how that data will be used in the future.
By Jeff Adair, Editor
---

Vending Technology News | More News | Vending Newsletter sign up | Questions? Contact us | email press release
Also see: Software Companies | Technology Companies | Micro Markets | Cashless Vending | Distributors | Classified Ads | Routes for sale | Vending Companies USA | Home |
VENDING YELLOW PAGES DIRECTORIES:
Call us at 1-800-956-8363, POST YOUR COMPANY, GET NEW BUSINESS!