Tech 2 Success' Hickey Urges Operators To Embrace E-Commerce
Given the fact that much of the equipment used in convenience services is connected to the Internet, convenience service operators have many opportunities to utilize the Internet for marketing. John Hickey, cofounder of Tech 2 Success, a provider of cloud hosting, IT consulting and micro market wireless solutions, believes operators have numerous tools available to market to both existing and potential customers. This is important since e-commerce is rapidly becoming a preferred marketing tool.
Hickey, whose company is an OptConnect reseller and a provider of ecommerce ordering software for convenience services, gave an overview on "Leveraging the Internet to improve on ROI" during this year's National Automatic Merchandising Association (NAMA) show in Las Vegas.
Most convenience service operators today are already using vending machines that use the Internet to process credit card payments and enable remote machine monitoring, Hickey noted. Operators can also leverage the Internet to offer customers and potential customers online ordering. He said coffee service operators in particular should consider offering e-commerce since Amazon, the e-commerce leader, is competing against them.
"Cross sales and upsells are a good opportunity to sell more product," Hickey said. Existing OCS customers can be buying more products than they currently are, such as cup lids, he said.
Hickey presented a slide summarizing the explosive growth of B2B ecommerce, noting that 41 percent of operators with online sales grew more than 25 percent in 2018.
E-commerce software allows customers to chat online, giving operators the chance to answer customers' questions, Hickey said.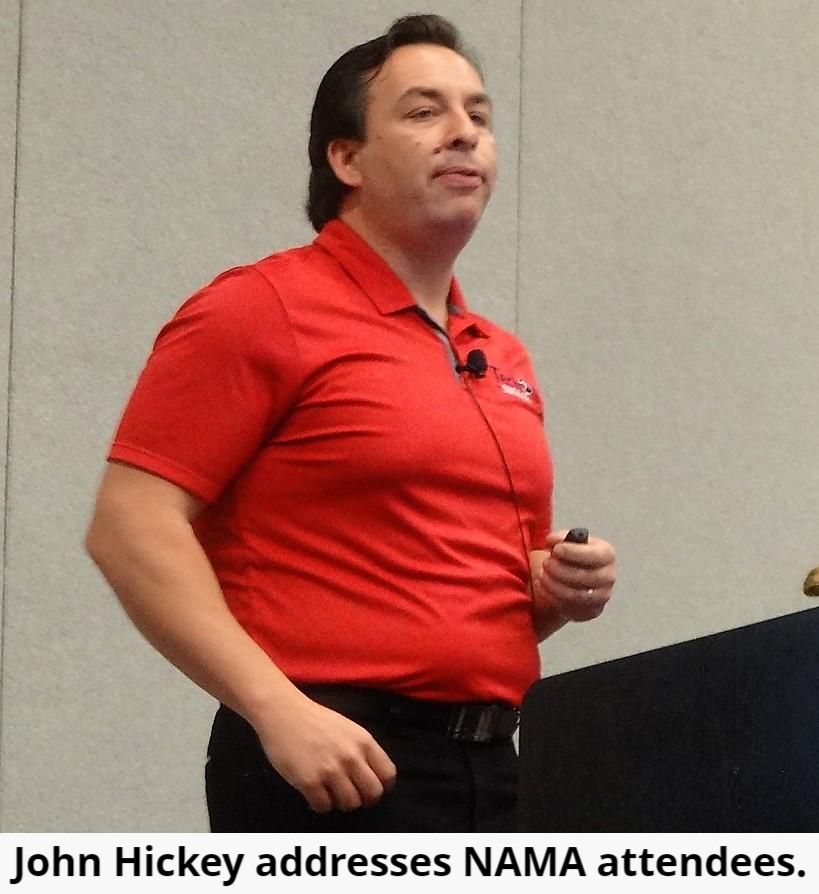 "Communication solves or prevents most problems," he said. E-commerce software also allows operators to track metrics at a granular level, providing real-time analysis of traffic patterns, exit and abandon rates and more. The software also offers marketing capabilities, such as tracking metrics that enables targeting, segmentation and personalization.
During the sales process, e-commerce software can email customers links to products, can send coupons and can offer reminders.
"There's a new buyer in the marketplace," Hickey said, referring to the younger consumers who are in the habit of buying things online.
Younger consumers are using social media, reading Google product reviews and using other digital resources when making buying decisions, he said.
Text messaging is the number one method of communication today, Hickey said, and the convenience service industry is not taking sufficient advantage of this tool.
Hickey presented the following stats about today's new buyers: 74 percent of B2B buyers research at least half of their work purchases online; half of B2B queries today are made on smartphones; and 64 percent of B2B customers want scheduled deliveries.
Hickey suggested operators consider the following client communication tools:
SlickText, a text message marketing platform that can blast marketing messages with images to customers.
Twilio SMS, a cloud based customer engagement platform.
Mailchimp, a marketing automation platform and email marketing service.
Constant Contact, an email marketing platform.
LinkedIn, a social media channel.
For more information visit https://www.tech2success.com
By Jeff Adair, Editor
---

 Vending Technology News | More News | Vending Newsletter sign up | Questions? Contact us | email press release
Also see: Software Companies | Technology Companies | Micro Markets | Cashless Vending | Distributors | Classified Ads | Routes for sale | Vending Companies USA | Home |
VENDING YELLOW PAGES DIRECTORIES:
Call us at 1-800-956-8363, POST YOUR COMPANY, GET NEW BUSINESS!