Study Finds Cashless Readers Also Boost Cash Sales In Vending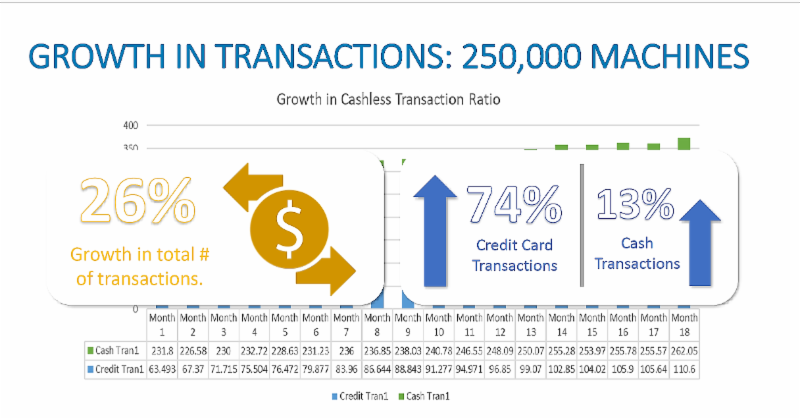 The beneficial impact of cashless readers on vending sales has long been established, but what many operators may not know is that cashless technology does not cannibalize cash purchases. A recent study commissioned by USA Technologies Inc. actually found that cashless technology increases cash spending in a vending machine.
The study, conducted by Michigan State University, found that cashless technology improved top line sales growth more on a percentage basis for low performing machines, defined as machines producing under $2,000 in annual sales, than for higher performing machines. The study was presented during the recent National Automatic Merchandising Association show in Las Vegas, The results were presented by Jim Turner, vice president of cashless deployment services at USA Technologies, and Michael McCall, Ph.D., the NAMA endowed professor of hospitality business at MSU's Eli Broad School of Business.
Approximately a quarter of the 4.3 to 4.5 million vending machines in the U.S. are equipped to accept cashless payments, according to the study.
MSU researchers measured activity in 250,000 machines following cashless deployment over an 18-month period, and learned that credit card transactions increased by 74 percent and cash transactions rose by 13 percent.
The sales increases were greater for low performing machines than high performing machines. Cashless sales jumped by 131 percent in the low performing machines versus 78 percent for all the machines. The cash sales increased an average of 97 percent in low-performing machines compared to 17 percent for all machines.
Low performing machines experienced top line sales growth of 110 percent on average when equipped with cashless technology compared to a 35 percent average increase for all the machines with cashless technology.
The number of transactions also improved. The total transactions rose by 26 percent. Transactions increased by an average 74 percent for credit card purchases and 13 percent for cash purchases.
Turner said cash sales increased on account of the improved attention operators pay to machines that have new technology. The machines with cashless readers have telemetry that supports the authorization of credit and debit purchases. The telemetry also enables remote data management, which allows the operator to deliver more timely servicing, and sales analysis.
Another factor is that operators often place more higher priced products in machines with cashless capability since customers are more likely to pay more when using a credit card. These higher priced products can also generate more sales from cash paying customers.
Credit card sales increase more than cash sales because it is easier for the customer to buy more than one item compared to using cash, Turner said.
Turner also noted that blue collar consumers are now paying more with credit cards than they used to.
Mobile payment presently accounts for 5 to 7 percent of cashless vending payments, Turner said, but mobile payment is increasing.
Cashless represents more than a billion-dollar opportunity for the vending industry, he said, considering the number of machines that don't yet have cashless readers.
By Jeff Adair, Editor
---

Vending Technology News | More News | Vending Newsletter sign up | Questions? Contact us | email press release
Also see: Software Companies | Technology Companies | Micro Markets | Cashless Vending | Distributors | Classified Ads | Routes for sale | Vending Companies USA | Home |
VENDING YELLOW PAGES DIRECTORIES:
Call us at 1-800-956-8363, POST YOUR COMPANY, GET NEW BUSINESS!