Stair Climber Offers Safe Way to Move Machines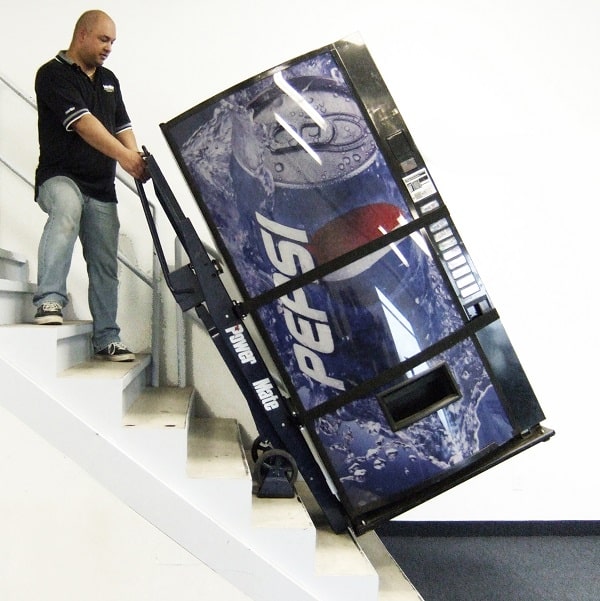 Vending machines can bring in great profits when they are placed in the right locations but moving them can be a pain, literally.
Thanks to the PowerMate Stair Climber, operators can use less manpower and save body strength because the PowerMate motor does 100% of the lifting when vending machines are lifted into trucks or moved up stairs or into a confined space. 
With this solution, operators will also be able to lower their labor costs because the PowerMate Stair Climber makes it easy for one person to move a vending machine where two people may have been needed in the past.
Increases Job Efficiency And Productivity
Operators who have used traditional dollies or hand trucks in the past to move machines know that those moving solutions can take a lot of time and energy.
Operators need to be able to move their equipment immediately, especially since Covid-19, which has led to the closure of many locations where vending machines are placed.
By utilizing a solution like the PowerMate Stair Climber, operators have the ability to move their equipment at a moment's notice to capitalize on opportunities, especially at locations where companies want to provide food service to their employees.
Using a product such as the PowerMate Stair Climber increases the productivity and productivity of a vending operation. The PowerMate solution enables operators to securely strap loads in place for even weight distribution and balance control.

Made by LP International, Inc, a Brantford Ontario based company, PowerMate has been manufacturing and selling safety moving systems since 1976. To learn more about the PowerMate Stair Climber, visit their website at https://www.powermate.info., call 800-697-6283.