SocialVend Introduces The Vendmini, A Socially-Activated Vending Machine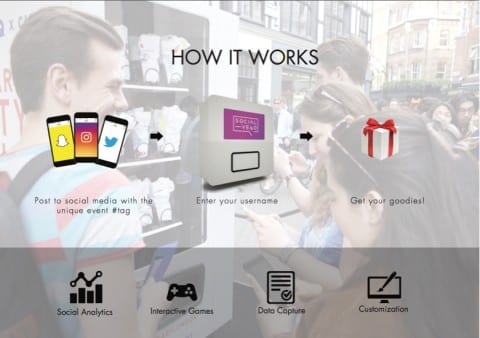 SocialVend, a London-based company, recently introduced the vendmini to the U.S., a socially activated vending machine with a small footprint for marketing campaigns, in-store sampling and promotional giveaways. Detecting social actions across channels determined by the brand, the system rewards consumers in return for their social engagement.
"To trigger a vend, our clever little machines prompt users to post to social media with their mobile devices using the brand's hashtag, as our system constantly scours social networks for uses of the brand's hashtag and matches the posts with the user at the machine, rewarding them with a physical gift for their social action," explained SocialVend co-founder Andrew Theodore. "In turn, brand awareness increases to all of that user's friends, creating immediate, extended brand engagement and building lasting brand affinity."
To ensure each execution is on brand, the machines can be wrapped in graphics and have a fully customizable software interface. It can be filled with product samples, promotional giveaways, gift cards and the like. In addition, a brand team can run surveys and data capture generating market research and marketing data.
SocialVend focuses on enabling both end user brands and agencies to take social vending in-house, removing high rental fees in favor of sales at reasonable prices.
For more information visit: http://www.socialvend.com/
by Elliot Maras
---

| Home | Vending Technology News | More News | Vending Newsletter sign up | Questions? Contact us | email press release |



Also see: Software Companies | Technology Companies | Micro Markets | Vending Classified Ads |
VENDING YELLOW PAGES DIRECTORIES:
Call us at 1-800-956-8363 to POST YOUR COMPANY, or QUESTIONS?