ShelfX Technology Allows True to Offer Unattended Retail Coolers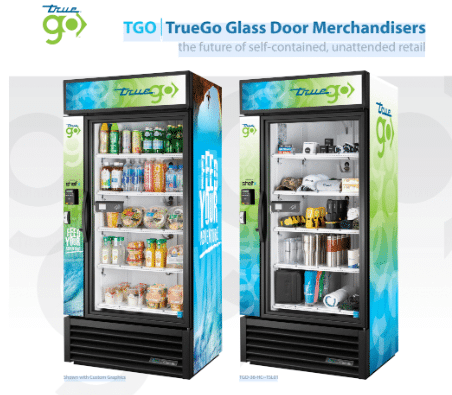 Refrigeration is a crucial part of every micro market.  If food is not temperature controlled, the operator is going to see profits go out the door with product spoilage. 
Using technology developed by ShelfX, True Manufacturing has bypassed that problem by creating a glass door merchandiser (GDM) which automates product selection and payment.  
While True has a variety of shapes and sizes of GDMs for retail refrigeration needs, its TrueGo merchandiser (Model TGO-36-HC) is the one which uses automated ShelfX technology.  True considers the TrueGo the future of self-contained, unattended retail.   
Here is how the ShelfX technology works in the TrueGo unit.  A card swipe using either a USAT or Nayax device on the front of the cooler unlocks the door.  Once the cooler is opened, consumers can personally take the product out.  There are no pushbutton selectors or elevator delivery devices to retrieve the item.   If the item is not what the consumer wants, he or she can place it back on the shelf before closing the door and a sale will not be recorded. ShelfX technology knows what product was on the shelf and where it was placed.  Once the door is closed, the cooler knows what is missing from the shelf and the purchase is recorded to the card which was used to open the cooler. 
Weighted Scales Record Sales 
TruGo comes standard with five shelves.  Each shelf has four weighted scales, allowing for up to 15-20 weighted SKUs per unit.  Each scale can hold up to 35 pounds, which means there are very few product restrictions.  An internal health lock automatically locks the unit if the internal temperature strays above 41 degrees for 30 minutes. 
The ShelfX technology also allows for inventory management and the ability to track changes  .Product flexibility and pricing are adjustable and can accommodate any request, such as combo deals or special privileges for employees, encouraging multi-product transactions.  The TrueGo set up process is customizable and can be done from anywhere, including a laptop, iPad, iPhone or Android device. 
TrueGo can transform from a refrigerated to a dry case by turning off the compressor, enabling operators to sell food and beverages one day and shelf stable goods the next. 
The cooler, which has a footprint of 36 3/4" w x 29 7/8"d x 78 5/8"h, contains LED lighting for crisp product display.  Custom sign, side and front panel graphics can be created to drive impulse sales. 
'Always On' Technology  
Unlike some forms of vending technology that only have to work when a consumer uses them, refrigeration has to be always on or the operator is going to lose product.  What makes True's technology different than other refrigeration technology on the market is its patented Reverse Condensing Fan Motor (RCU) technology, which can remove dust, dirt, and excess debris from the condensing coil surface since the direction of the condensing fan can be reversed.  
Besides their RCU technology and glass door merchandisers,  True manufactures air curtains and a wide variety of other products that are used in micro markets around the world.  
Changing With The Times  
Even though the quality of True's technology hasn't changed in its 70-year history, the company has been consistently improving its technology to adapt to the call for more environmentally friendly technology.   
The company is now using hydrocarbon, a natural refrigerant, as there has been a growing concern about the use of other refrigerants, like Freon, and their effect on the environment.  
Hydrocarbon refrigerants are natural, non-toxic and don't have any properties which could contribute to depleting the ozone layer or contribute to global warming.  
To learn more about True Manufacturing, visit their website at www.truemfg.com.  
To learn more about ShelfX, visit their website at www.shelfx.com. 
By Jeff Adair, Editor
---

 Vending Technology News | More News | Vending Newsletter sign up | Questions? Contact us | SUBMIT PRESS RELEASE
Also see: Software Companies | Technology Companies | Micro Markets | Cashless Vending Solutions | Distributors | Classified Ads | Routes for sale | Vending Companies USA | VendLoco Lists | Home |
VENDING YELLOW PAGES DIRECTORIES:
Call us at 1-800-956-8363, POST YOUR COMPANY, GET NEW BUSINESS!