RSA Management Group's John Murn Buys AVT's Assets, Launches Vending Equipment And Technology Firm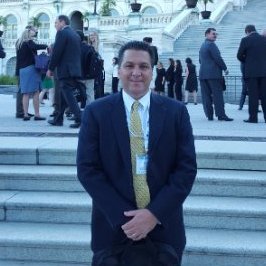 John Murn, president of both RSA Management Group and the New York State Automatic Vending Association, has launched a vending equipment and technology company after purchasing the assets of AVT Inc., which filed for bankruptcy protection in May of 2015.
In his role with RSA Management Group, Murn had overseen the management of vending contracts that included AVT machines. RSA Management Group managed the LA Fitness management contract for AVT, which included combination beverage and snack machines.
He estimated RSA Management Group is currently overseeing the management of about 300 AVT machines.
Murn's new company, Accelerated Retail Technologies (ART), has a manufacturing facility in Corona, Calif. and is working on enhancing AVT's technology. The company will provide replacement parts for existing AVT's machines. He estimated there are around 5,000 AVT machines in operation, including about 3,000 H.U.M.A.N. Healthy Vending branded machines.
"They came out with some great patents and some really great, innovative things and software," Murn said of AVT.
"I'm not making the same machines AVT made," he said. "I'm taking the general design of the AVT because I own all the designer patents and everything, and I'm enhancing them."
"My goal is to be bringing in a glassfront beverage/snack combo machine for under $4,000," he said, adding that manufacturing has already begun.
Murn said there is a demand for custom equipment, which he is already working on.
"They still realize that we have the engineers and we have the software people that came with AVT," he said.
Murn, who did not wish to say what he paid for AVT's assets, said he has hired about 20 employees, including former AVT engineers and software developers. He said new machines under the ART label will be available around Christmas.
He estimated around a couple hundred vending operators were operating AVT machines.
AVT made machines under its own name along with equipment branded as Rug Doctor, H.U.M.A.N. Healthy Vending, Marley Coffee, UTique and BurritoBox, some of which are still in operation.
Murn expected he will be offering a retrofit remote management device which AVT had previously announced, as well as voice-activated machines for blind operators.
Murn said he will be the acting president for the time being.
AVT products, according to Bloomberg, included a controlled access cabinet system for retail stores to sell convenience items, a software system that allows consumers to view advertising or messaging on product dispensing systems, a software enabling clients to remotely view information for machines to plan daily replenishment, a solution for detecting vended items, touchscreen software and more.
AVT continued to operate and innovate even after it filed for bankruptcy protection in May of 2015, stating that the bankruptcy was related to attempts at diversification into unrelated businesses.
AVT was founded in 2001 and was publicly traded.
For more information visit: http://www.acceleratedretailtechnologies.com/
---

| Home | Vending Technology News | More News | Vending Newsletter sign up | Questions? Contact us | email press release |



Also see: Software Companies | Technology Companies | Micro Markets | Vending Classified Ads |
VENDING YELLOW PAGES DIRECTORIES:
Call us at 1-800-956-8363 to POST YOUR COMPANY, or QUESTIONS?