Portland, Ore. Vendor Uses Dynamic Routing To Provide 'Pantry Service'; Online Store Is Next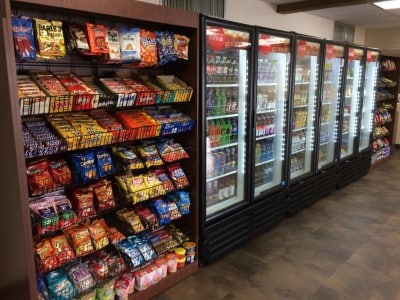 Today's vending technology creates opportunities for innovative operators to expand into new markets. Royal Vending, based in Portland, Ore., has used dynamic routing to expand into "pantry services." But the innovation won't stop here; the company also plans to leverage its online ordering, warehouse and delivery capabilities to add an online store for customers this year.
Owner Ryan Harrington has studied technology since he launched the company 10 years ago with two vending machines working out of his garage. In four years, he grew to 100 machines. Since then, the company has nearly doubled its sales every year, and presently services 300 stops.
"We really embraced technology," Harrington said. "The way technology has affected our business has really brought a lot of work in the field into our warehouse."
Harrington's wife and business partner, Michelle, brought an HR background to the business, which has helped in setting up services to meet locations' food and refreshment needs.
Key Expansion: Micro Markets
Two and a half years ago, Harrington expanded into micro markets. At around the same time, he invested in cashless for all vending machines.
The company's 15,000-square-foot warehouse supports vending, OCS, micro markets and "pantry service."
The pantry service was a natural outgrowth of the micro market operation. Many locations in the Portland area want to provide food and beverages for their employees, but they don't want the employees to pay for it. In the past, such locations had to send an employee to a membership warehouse club to buy products.
Royal Vending's pantry service saves the location from having to send an employee to a membership warehouse club. Royal Vending provides the location with shelves and coolers and fills them on a regular basis. The customer emails their order, and the order gets delivered by Royal Vending's micro market route.
"It's run just like a micro market," Harrington said. "The only difference is instead of the kiosk being able to provide us the data of what sold, the driver just has to bring more product and do the inventory first to see what is needed. It's a little bit more time consuming, but its usage is much higher because of the employee count. He (the driver) has an inventory check list on his truck."
A 55-employee pantry service location can do as much business as a 350- to 400-person micro market account since the product is free to the employees.
Pantry Service Demand Rising
While pantry service presently accounts for only about 10 percent of the company's sales, "It's something that's growing here in Portland because there's a lot of tech here," he said. "I think employers are focusing a lot more on benefits here. This is a big benefit."
Harrington compared pantry service to OCS, but with more product variety. "We'll supply 300 different options – snacks and granola bars and beverages, even fresh food, salads, veggie cups – the whole works.," he said.
"It looks just like a micro market, but there's no cost (to the employee)," he said.
"A nice pantry account is worth four micro markets," Harrington said. "It's a much higher volume type of account."
The first pantry service account came from a customer that wanted a micro market but did not want to require employees to pay for the snacks.
While Royal Vending relies on 365 Retail Markets software for inventory management and pre-kitting, the micro market and pantry service routing is managed by Parlevel Systems, the provider of the company's vending management software.
"The driver makes one trip to the machine, fills it up. The truck goes out full and comes back empty."
Dynamic routing has been key to the company's growth. All six drivers are cross trained to handle vending and micro market routes. Some drivers focus more on one area than others, but all can step in and take over a vending route, a micro market route, or work in the warehouse. "They're all cross trained," he said.
Next Step: Online Store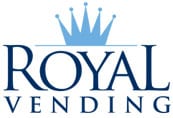 The next step is an online store. Harrington sees this as an outgrowth of the pantry service. He anticipates customers placing orders online and having the delivery within two business days.
"If they want product, they can order by the single unit," he said. "Instead of emailing the order forms, they will do it right online. That goes right to our warehouse, because we are already picking by the single unit with our micro market. It just adds to a pick ticket, gets picked, and then we throw it on which ever driver's route is closest to that location the next day."
"We're already picking that in our warehouse," he said. "We feel like it would be an easy transition to just add another pick ticket in our warehouse. And we already have the distribution network on the road."
"To drop off a box of products takes five or 10 minutes to get a signature," he said. "We definitely see it as something we want to implement as fast as we can. But we also want to do it right."
What would be unique about this service is the ability for the location to order by the single unit as opposed to by the case. Membership warehouse clubs will deliver product, but they have a minimum required order.
Harrington said the cost of technology for this has been prohibitive in the past, but technology costs are declining. He hopes to have an online store operating this year.
"What we want to do is disrupt the purchasing here in our area," he said.
Micro Markets Expand
Micro markets now account for half of the company's business and comprise the fastest growing part of the business. The company presently operates 46 micro markets and has more on order.
Harrington offers a micro market to locations with 100 or more employees, providing it is a closed location. Accounts with less than 100 employees that are willing to subsidize the purchases are also considered. Some locations with as few as 40 employees that subsidize purchases have micro markets.
A 50-person account that subsidizes the micro market purchases can be more profitable for Harrington than a 300-person location.
"We're looking at, 'how can we place 500 micro markets,'" he said. "An avenue that would get to that number would be the smaller accounts willing to provide a small (subsidy) benefit to their employees."
Sales at least double when a vending account converts to a micro market. In some cases, sales have increased by 500 percent.
Harrington is aware of micro market systems where the customers order and pay for product using a mobile app instead of paying at a kiosk. His micro market provider, 365 Retail Markets, offers such as system called Verii. He sees this as a way to make a micro market more affordable to a location since there is no payment kiosk.
But he has not yet decided if he will use this kiosk-less micro market option.
"It's lower costs of entry, but over time, would we make more with the kiosk provided?" Harrington wonders.
For Royal Vending website visit: http://royalvendingnw.com
Also, for more information on 365 micro markets & 365 technology, visit: 365RetailMarkets.com.
---

Vending Technology News | More News | Vending Newsletter sign up | Questions? Contact us | email press release |
Also see: Software Companies | Technology Companies | Micro Markets | Cashless Vending | Distributors | Classified Ads | Home |
VENDING YELLOW PAGES DIRECTORIES:
Call us at 1-800-956-8363 to POST YOUR COMPANY, or QUESTIONS?