PayRange Offers BluCard All-in-One Card Reader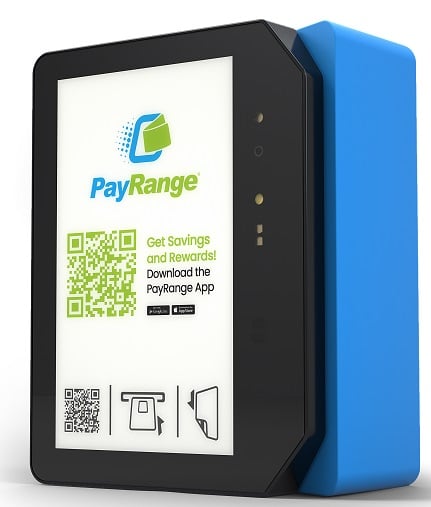 Fully integrated with PayRange app features, the modular device accepts swipe, tap, and chip payments and features a 4" color screen. 
PayRange Inc., a network for everyday purchases, announced it has added the BluCardTM modular all-in-one payment device to its network. The device supports all credit card payment interfaces in one small, stylish, and weather resistant enclosure. The reader is specifically designed for installation on machines to allow cashless payment with magnetic payment cards, as well as proximity, vicinity, and contact EMV payment cards. Using the 4" full color display, messaging can be created to interact with credit card-based users with custom notifications during card transaction to further drive mobile app awareness, downloads, and user adoption.  
With the addition of BluCard, PayRange now offers its operators a total payment solution to capture all of their cashless needs, while importantly providing the additional revenue lift benefits of the PayRange network, the nation's largest mobile payments platform and its millions of satisfied users.
For operators adding BluCard to their existing PayRange enabled machines, transactions from the BluCard device will appear in their Manage dashboard alongside BluKeyTM transactions, and can be sorted and filtered by the operator if they choose. Sales and fees on a per device basis are also viewable in the Manage dashboard. BluCard is available for vending, laundry/laundromat, carwash and amusement machines. The addition of a BluCard or BluKey still allows for cash or coin acceptance if an operator chooses.
PayRange invites operators interested in BluCard to contact the company, and offers dedicated sales consultation times scheduled from their website, at a time that works best for the operator. This allows for answering all questions related to pricing, installation, customization, and more for a complete payment solution to the operator's needs.
For more information visit www.payrange.com.
About PayRange:
PayRange was founded by Paresh Patel, an unattended retail veteran, to provide operators and consumers with a simple and secure mobile payment and loyalty solution for laundry, vending, amusement, and other small ticket merchants. PayRange is the North American leader in mobile payments for unattended retail, with over 4 million users and a network of machines throughout 350 cities and towns in the US and Canada. Find out more at www.payrange.com.